There are some essential items that you will need for your trip.
GUIDE BOOK
As I said before, the Kev Reynold's book Chamonix to Zermatt, the Classic Walker's Haute Route is an absolute necessity.  With this in hand, you probably don't need to buy extra maps, although we found them useful in giving a bigger picture and showing alternate trails.  Kev is very specific in his directions, and takes pains to update the description with new editions.  That being said, make sure that you have the latest version!
There are tons of trails all over the Alps, and the Alpine Clubs do a great job of maintaining extensive signage.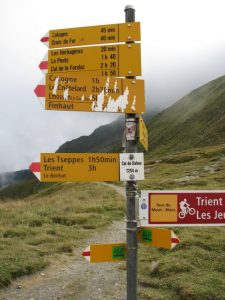 You can usually tell where you are and where you need to go, and Kev's descriptions are fantastic.  These yellow signs are at every junction, and when trails are over rocks or through towns, you will see blazes painted on rocks and buildings to help direct you along the way.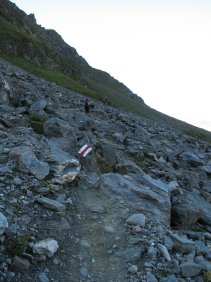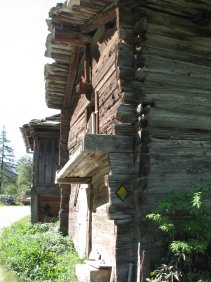 Throughout this account you will notice that we have some disagreements with "Kev time" – the amount of time the guide book tells you it will take to complete the hike.  He clarifies that this is just walking time – no breaks or lunch or stopping to take photos is counted.  I wish we had kept track of our timing, to provide another (slower) perspective that does include those necessary stops.  However, to be fair, his times were pretty similar to what was posted on the signs.  Neither seemed very realistic.   For example, one day Kev offers two alternatives to get from the Cabane de Prafleuri to Arolla – one is the route we took, over Col de Riedmatten (an adventure you'll enjoy further on) or via Cabane des Dix and over the Pas de Chevres (involving ladders bolted into vertical rocks – no thanks!).  He suggests that it will take the same amount of time to do either one – 6.5 hours, and claims that the second route is just a kilometer longer.  Looking at the maps, and having been there and seen it, I can't believe it!
So – whining aside – though it did often take us longer than the signs or the book suggested, we always made it to our final destination long before dark – and usually with an opportunity to rest and take a shower before supper.  Our latest arrival was still just around 6:30 in the evening.  We tended to have a more leisurely morning than most: usually on the road between 8:00 or 9:00 am, whereas most others were out the door between 7:00 and 8:00 am.
MAPS
If you are interested in having maps, you can find them online or wait to buy them in France and Switzerland.  We ordered maps ahead of time because I am just that type of person 🙂  We did see the same maps at tourist shops all along the route, but I'll be honest that I didn't check to see if each store had what we might have wanted at that particular stage of the journey.  Nothing in Switzerland is cheap, so I doubt that you would really save by waiting and purchasing maps once you got there.
You should be careful what you buy because the maps that you want have the letter "T" after the map number, indicating that trails are shown.  Without those, there isn't much point in having them.  I found the maps at Omni Maps.  You will need all five maps in order see the entire route from Chamonix to Zermatt.  The maps are Martigny (282T), Arolla (283T), Montana (273T), Visp (274T) and Mischabel (284T).
EQUIPMENT
What you will need to purchase likely depends on whether you do much backpacking already.  However, if you haven't done much hiking or other strenuous climbing activities, this is likely not the trip for you!  The first half of the route can be challenging – especially if you're not into semi-vertical climbing.  Look for an easier route (I've heard that Tour de Mont Blanc is less difficult, but can't vouch for that).
I found a packing list from a company called Distant Journeys that offers guided and self-guided trips of the Haute Route, and think it might helpful – though having backpacked before, the list was pretty standard.  I've put our detailed list, including what we wished we'd done differently and actual pack weights for both packs at the end of this article.  We carried EVERYTHING we would need for the entire trip, including a couple of city days in Basel.  If you plan to spend much time traveling after the hiking, you might want to pack a separate bag that you send/store at the rail station to pick up after your hike (it costs the price of a rail ticket to do so).
We purchased smaller backpacks than what we normally use for a week long trip requiring tents, food and full sleeping bags.  We love bargains, so I generally look for equipment at Sierra Trading Post – and that's where I found our 40 liter La Fuma packs.  We also bought sleeping bag liners to use at dortoirs.  Bedding at the huts and dortoirs are NOT changed between users, so you'll definitely want some kind of lightweight sleep sack to climb into for the sake of hygiene.
Other than that, I don't think we purchased much else.  We had hydration systems (Camelbaks) already, all the clothing that we needed (although I did take advantage of the trip to buy a super-lightweight rain coat that I loved!).  One highly recommended item is a couple of disposable plastic food containers (like Gladware) to put your lunch items in.  We got 2 pint-sized tubs that were perfect for storing cheese, meat or fruit along with some Ziploc bags.
Another suggestion to help out along the way: I carried with us a spreadsheet with our trip and all of the contact information for our accommodations.  This proved very helpful and also provided a single spot to save email addresses and contact information for people we met during our hike.
A thing about cell phones: we purchased a phone that we knew would work in Europe and we were glad to have it many times.  Having hiked in the Sierras, Glacier and the Tetons, it felt odd to have the ability to make a call from high up on a mountain, but the coverage was there!  It was fun to text the kids as to our progress without using up too much time.  However, we found that the phone was not able to send or receive text messages from people we met along the way.  I'm not sure what the barrier was, but be aware that you might have limitations in communicating with European long-distance numbers.
Here is what my pack looked like unpacked: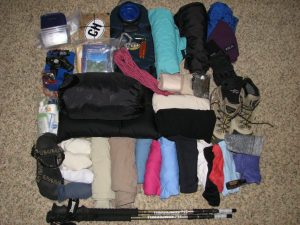 and packed: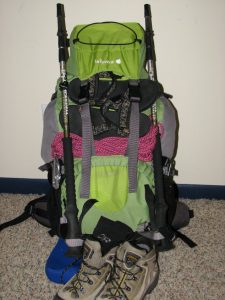 Here is a list of what we would do differently, how much the packs weighed and what was in each of our packs, excluding the following items.  I subtracted the unwanted items from my pack weight because they were significant in their contribution to total weight; Barry's unwanted items just weren't that heavy. (Katie/left, Barry/right):
Items I wish I hadn't brought:

Windstopper/fleece jacket – Mountain Hardware: I could have achieved same with layering under my rain jacket

GPS: didn't have Switzerland maps available and Cicerone book/maps were more than adequate

as many socks: I just needed 2 Patagonias and another set of sock/liners – but I packed for options in case I had boot trouble

Hiking sticks: just found these to be more of a burden than a help (this was his personal perspective; I won't hike without them!)

Items I wish I had brought:

Lightweight pants for city/wash days

warm gloves (somehow left these behind)

Needles in first aid kit (for blisters)

charger for cell phone

Total Pack Weight

21 lbs (without water and items I wish I hadn't brought) – but this includes all items except boots, and I would have been wearing one day's worth of clothes…

25 lbs (without water but including items I wish I hadn't brought) – again this includes all items except boots, and I would have been wearing one day's worth of clothes…
| | |
| --- | --- |
| Katie's pack | Barry's pack |
| Lafuma Nanga 40 – Ventilight System | Lafuma Nanga 40 – Ventilight System |
| Sleeping bag liner – Alps Mountaineering "Butterfly" | Sleeping bag liner – Alps Mountaineering "Butterfly" |
| Rain pants – Marmot | Rain pants – Sierra Designs |
| Rain jacket – Arcteryx Beta SL | Rain jacket – Equinox |
| warm gloves – Seirus | wind jacket – Insport |
| warm fleece hat – Bula | warm fleece hat |
| water proof rain/sun hat – Marmot | wool brimmed hat |
| hydration system – Camelbak 100 oz | hydration system – Camelbak 100 oz |
| Goretex boots – Asolo | Leather boots – Alico |
| gaters – Outdoor Research | gaters – REI |
| 2 pair zip-off pants (Ground & Mountain Hardware) | 2 pair zip-off pants with liners (no underwear needed) – Ex Officio |
| 2 short sleeve poly shirts (Mountain Hardware & Terramar) | 2 short sleeve poly t-shirts |
| Mid-weight fleece pullover – Gerry | Mid-weight fleece pullover – LLBean |
| quick dry button down longsleeve shirt – REI | quick dry button down longsleeve shirt – Columbia |
| lightweight thermal top – Hot Chillys | lightweight thermal top – Duofold |
| lightweight thermal bottom – Title Nine | lightweight thermal bottom – Marmot |
| 3 pair travel underpants – Ex Officio | quick dry shorts with liner – Columbia |
| 2 wicking sports bras – Champion | quick dry short-sleeved button up shirt – REI |
| mini down pillow | cotton pj bottoms |
| sandals – Teva | sandals – Teva |
| 4 pair socks and 3 liners | 4 pair socks and 2 liners |
| headlamp – Petzyl | headlamp – Petzyl |
| space/emergency blanket | space/emergency blanket |
| Hiking sticks – Komperdell | Hiking sticks – REI |
| paperback book | paperback book |
| MP3 player for flights | MP3 player for flights |
| camera and belt case | camera |
| Leatherman tool | jack knife |
| handkerchief | handkerchief |
| | copies of passports & credit cards |
| | |
| Shared items: Katie | Shared items: Barry |
| compass | First Aid kit* |
| journal | toiletry items** |
| maps and Cicerone guide | Stuff sack for carry-on items (poles and knives) |
| small roll TP and hand cleaner | binoculars |
| toiletry items** | cards and dice game |
| 30 feet rope and carabiner | extra batteries for lights and cameras |
| camp towel – Thermarest | cell phone |
| 2-24 oz. Gladware containers, 2-1 qt and 2-1 gallon ziploc bags for lunch items | |
**Toiletry Items
2 tooth brushes, small tube toothpaste, dental floss
breathe-rights and ear plugs (for dortoire nights)
shampoo
shower gel
face lotion
body lotion
2 hair products
deoderant stick
1 razor, shaving cream
sunscreen
lip balm
hairbrush/mirror travel combo
OTC medications: (Aleve, antihistamines, decongestants, Zantac, melatonin, immodium, aspirin)
*First Aid Kit
povidone/iodine swabstick
variety of blister care products
bacitracin ointment
small ace wrap
3M medipore tape
3M microfoam tape
gauze wrap
variety of bandaids
gauze pads
extra shoe laces