We thoroughly enjoyed our 2 days in Zermatt.  It is a large ski resort with tons of tourists – and skiers – even at this time of year.  I guess it is a rare place where you can ski all year round.  Kev describes it well when he talks about expensive fashion and jewelry shops.  Needless to say, we didn't buy much in Zermatt.  But it was fun to walk around, see the old village, the climber's cemetery and all the people.
Buildings in Old Zermatt Village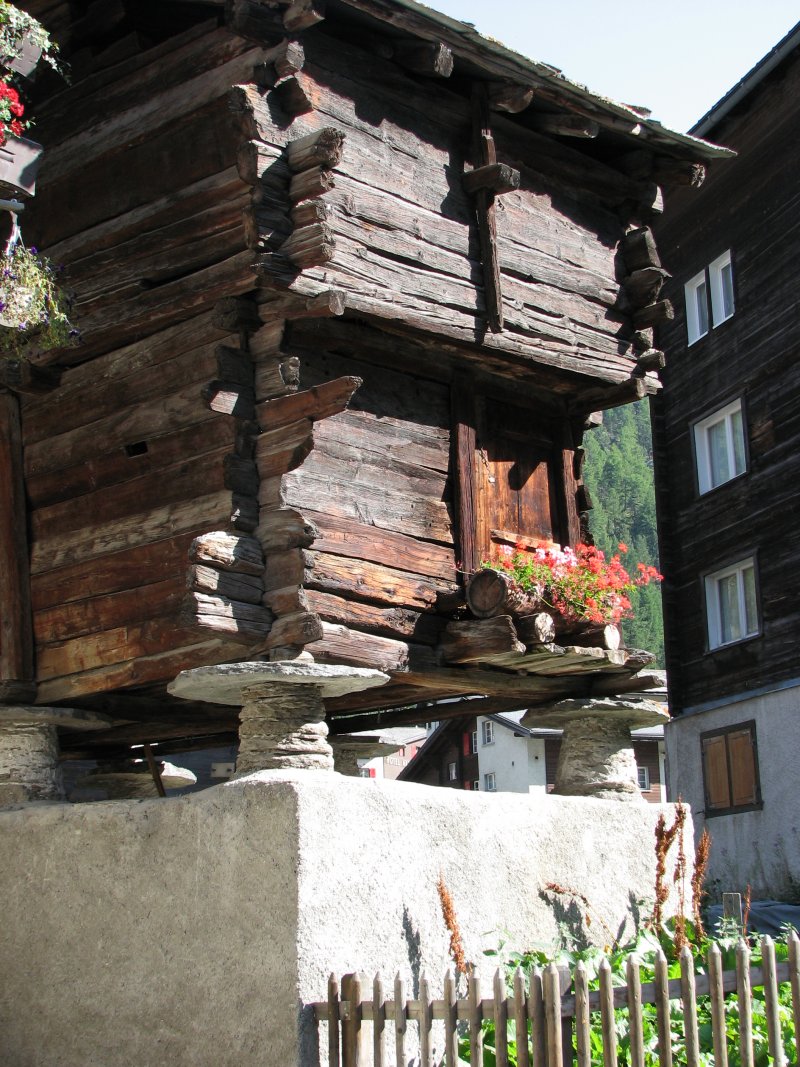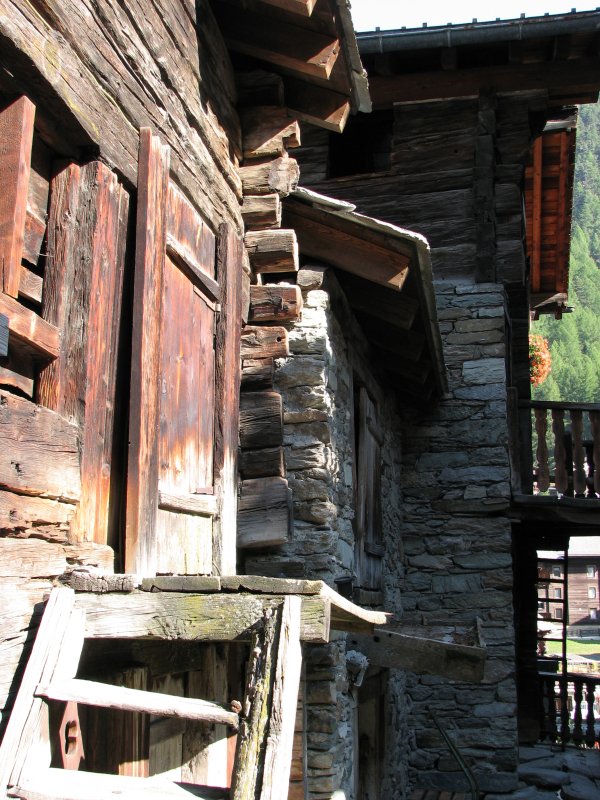 The climber's cemetery was eerie and beautiful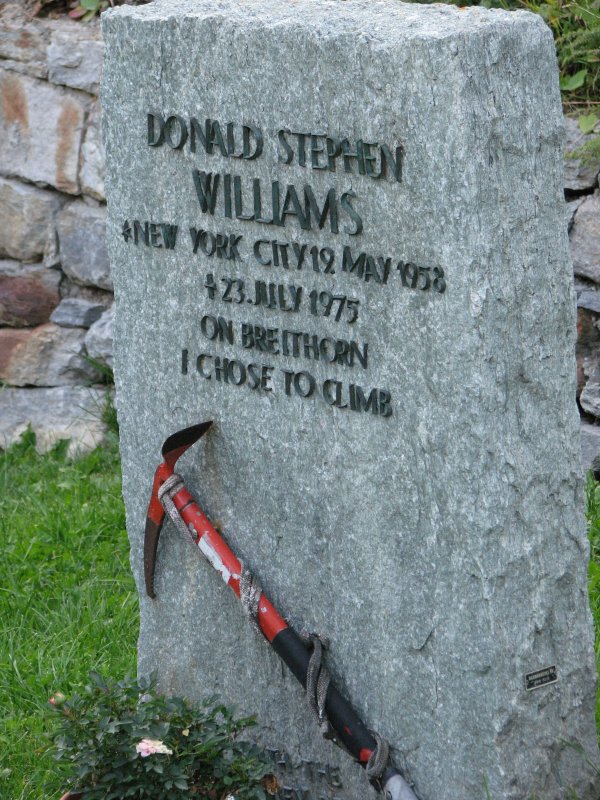 We chose our hotel because it was recommended by our friends who had done this trip before.  We were not disappointed – pretty good value, amazing view and very good petit dejourners.  We told Cindy and Peter about it, and were pleased when they joined us there the next day.  We were able to make reservations by email.
Here are journal entries for Sept 8 and 9:
It was great to relax and sleep in this morning, but I did want to get a sunrise picture of the Matterhorn.  I shot a few – I could almost do it lying down in bed, our view is so great!  Breakfast was fantastic – great bread, the usual meat and cheese, and lots of grains and nuts to add to muesli or granola.  It was hard to hold back, even though we knew wouldn't be hiking 10 miles to burn it off.
We sprang for the Panoramic Pass, a 2-day pass that enabled us to go up several cable cars/trams to view the Matterhorn and Breitthorn up close.  There were lots of skiers – including (we think, based on equipment and apparent sponsors) the Swiss and German national teams.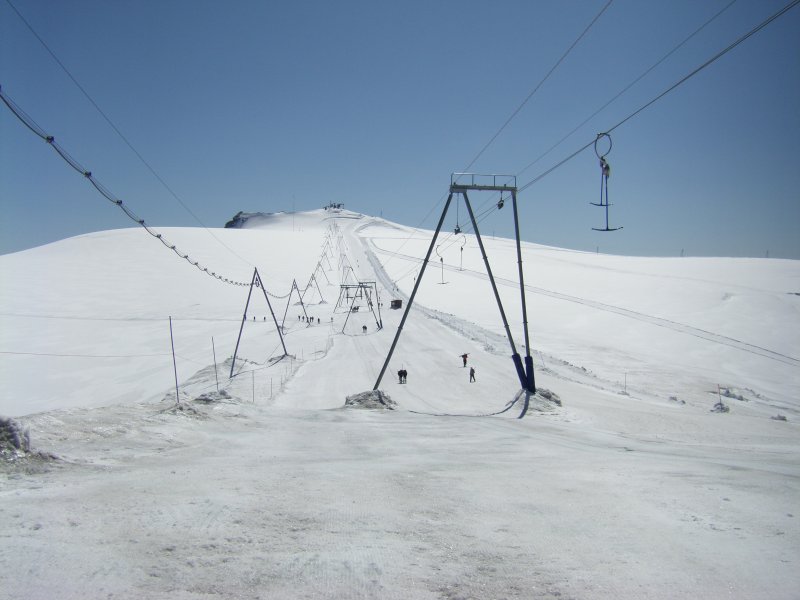 There were also a lot of climbers going up Breitthorn and another peak to the west.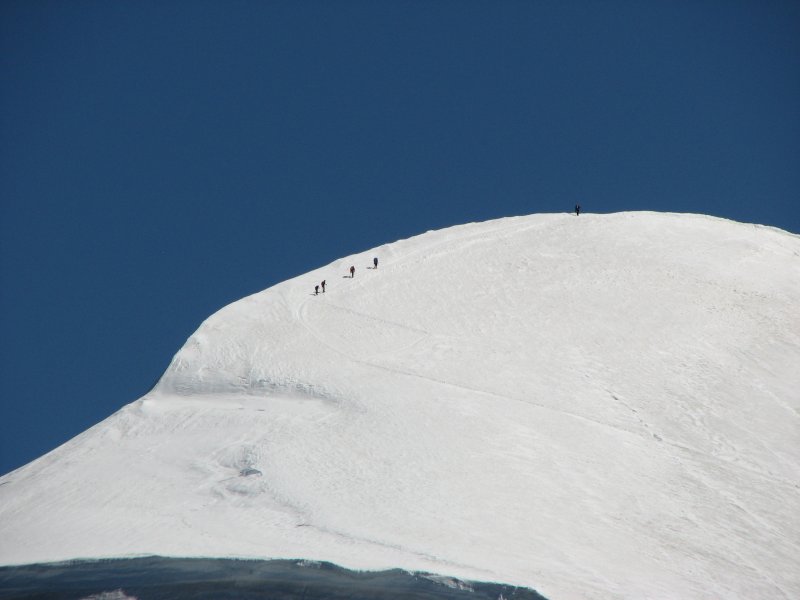 You can just make out the tiny figures of those who reached the summit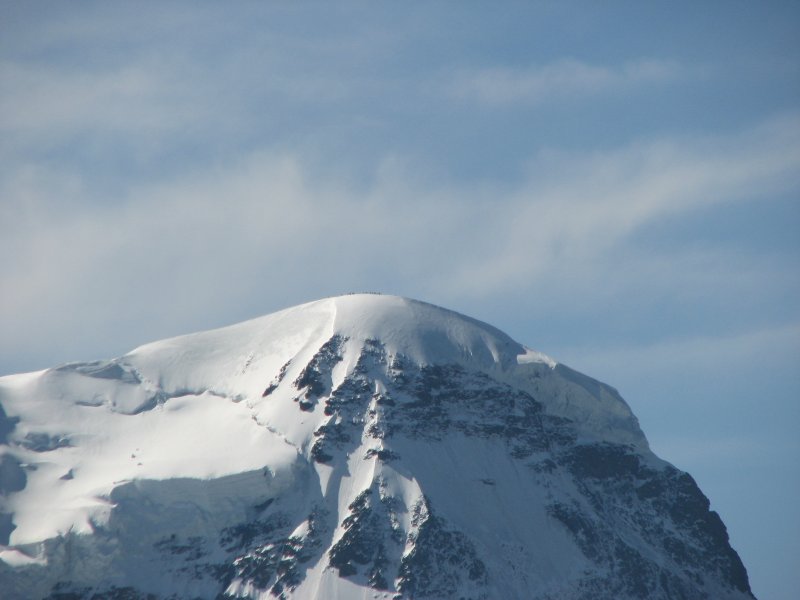 We'll go to the other lift tomorrow.  Tonight we plan to meet up with Cindy and Peter, who are staying in the room next door.  We're glad they were able to get a room, and we're looking forward to catching up on their trip.
After our first day, the Matterhorn had a constant cloud around its head.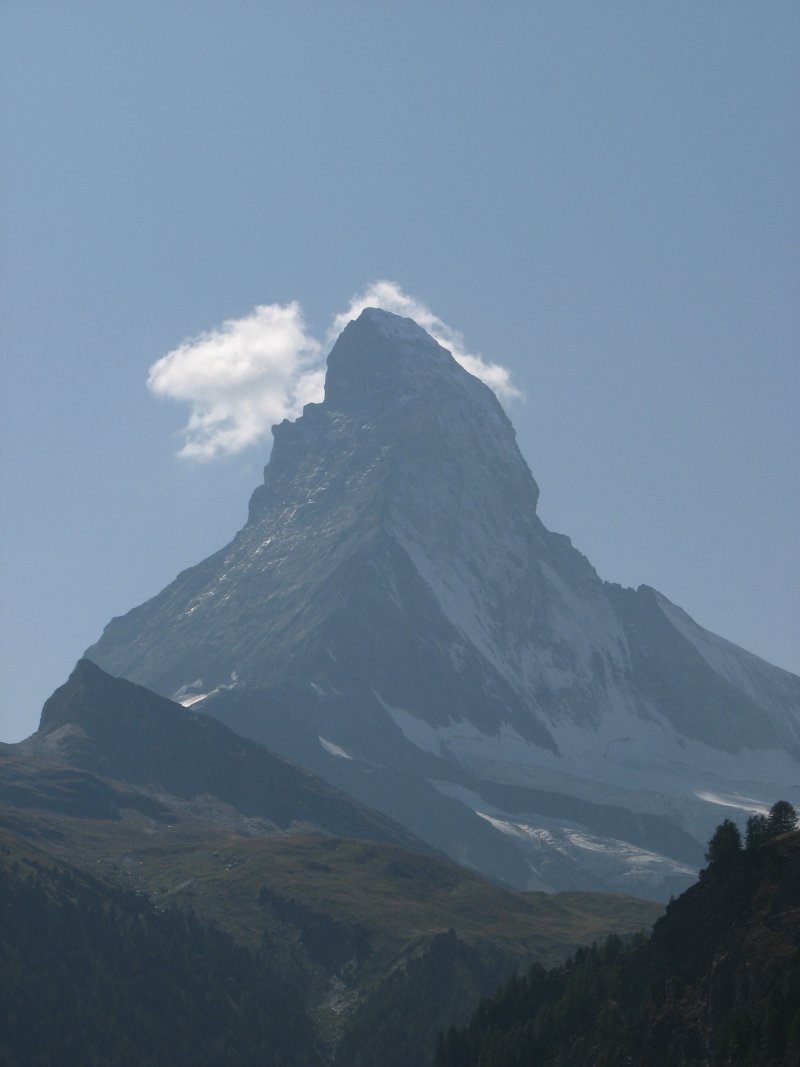 The cable/tram up to the Klein Matterhorn ("Little Matterhorn") and another intermediate location to the south of Zermatt were cool.  The "Sunnega" paradise was the starting-off point for hikers (and Matterhorn climbers, though we didn't see any actually climbing on the mountain).  The Klein Matterhorn (highest lift) takes you up to summer skiing and the base for those hoping to summit Breitthorn.  Riding over the glaciers was spectacular.  Again, it is amazing that they have these cables set up so high – and have blasted tunnels through mountains way up here.
Looking down into Zermatt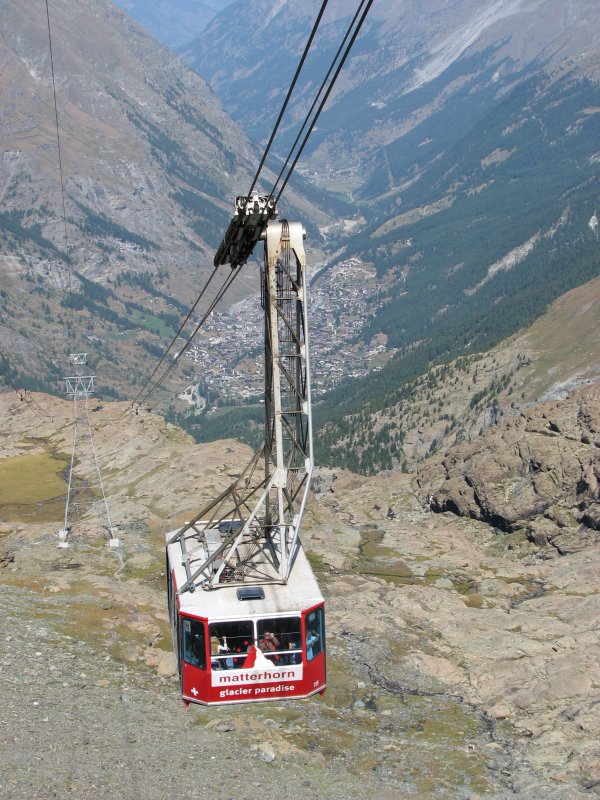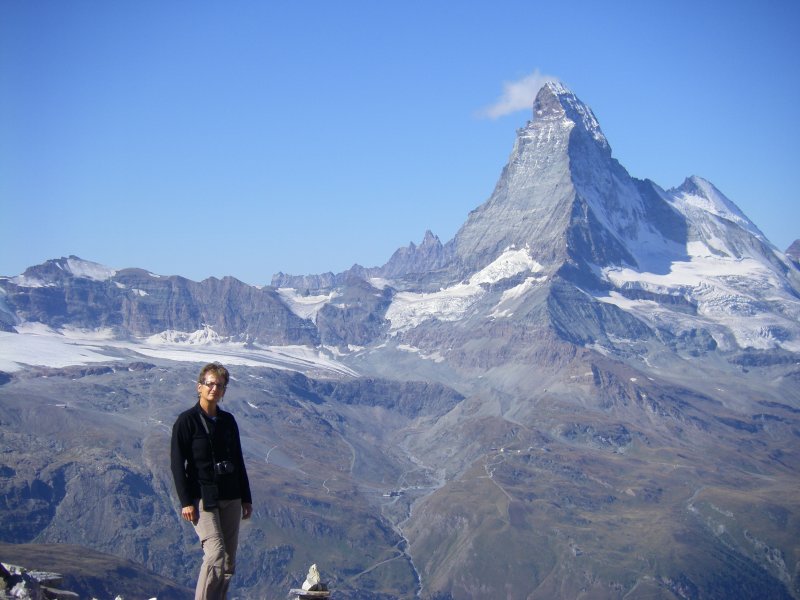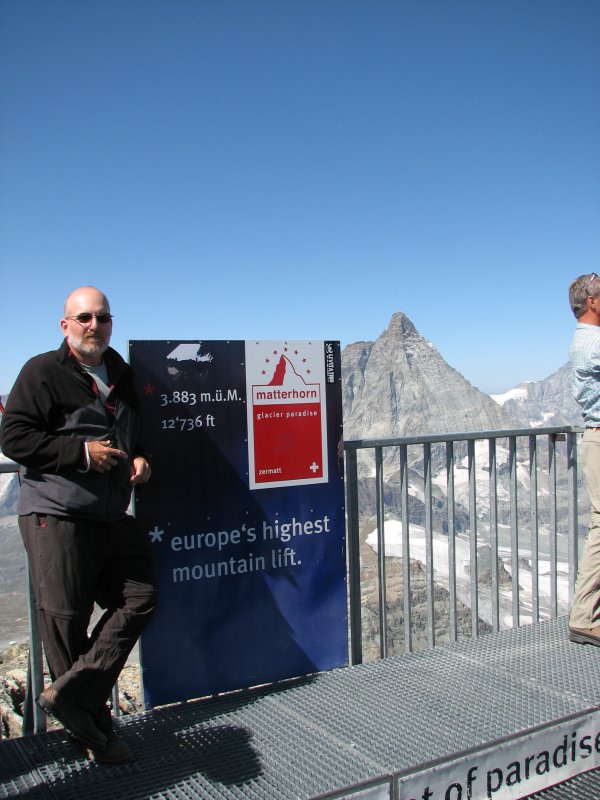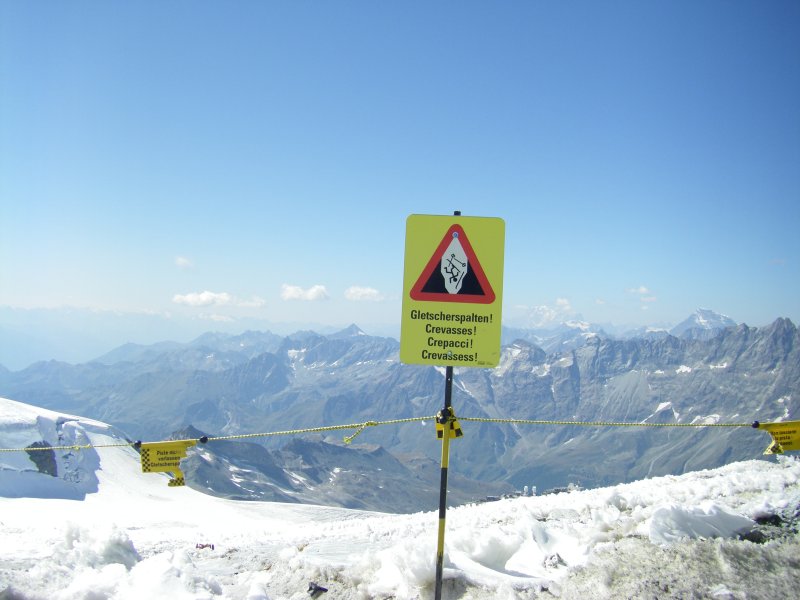 Spectacular glacial view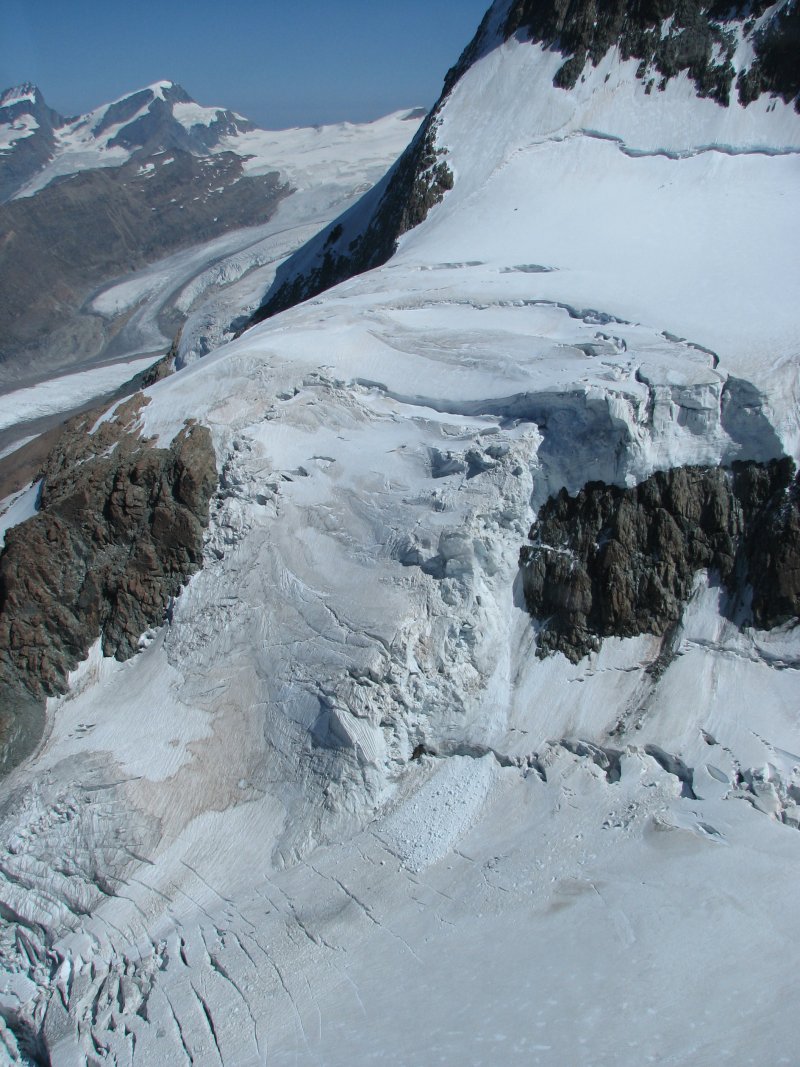 We basically spent all morning and early afternoon up enjoying the rides and views.  For lunch we ate left-over dinner and the end of the bread/cheese/salami that we had packed for lunch at the end of our trip.  We poked around Zermatt afterward, my goodness, it's expensive!  I would love to buy another set of clothes (since I'm pretty sick of the same, dirty stuff), but not at these prices.
We joined up with Peter and Cindy for dinner and to hear about their trip and adventures.  They also took the bus and cable up to Verbier and Les Ruinettes on their way to Mont Fort (not their original plan, but I think Cindy was impressed with our idea enough to convince Peter to take advantage of the cable cars).  I think they hiked to Prafleuri, but somehow got down and avoided Col de Riedmatten and Pas de Chevres (good plan).  They made it to Arolla and hiked up the back side of the col and looked down!  We shared contact information, and it would be fun to re-connect with them.  They are both on sabbatical from NAU and have 6 weeks of travel ahead of them.
Today we used the rest of our 2-day pass to go up the other cable/tram system to Rothorn.  Surprisingly, it started with an underground train going straight up to a cable car stop.  We went all the way up, via telepherique and enjoyed another view of all the mountains.  This side of the valley was very different from what we experienced yesterday.  In the winter, this is a "free" area, without specific runs.  In the summer, it is a celebration of the mountains!  Each mountain had a plaque with a photo of the peak and something written about it by previous climbers.  I took many photos!  It was a magical place – my favorite of the 3.  We watched paragliders take off into the valley and I created my own Matterhorn cairn after admiring one that someone else had made.  Beautiful and fun morning – yet again fantastic weather.
Each mountain had a sign showing a photo, naming it and giving information and a statement…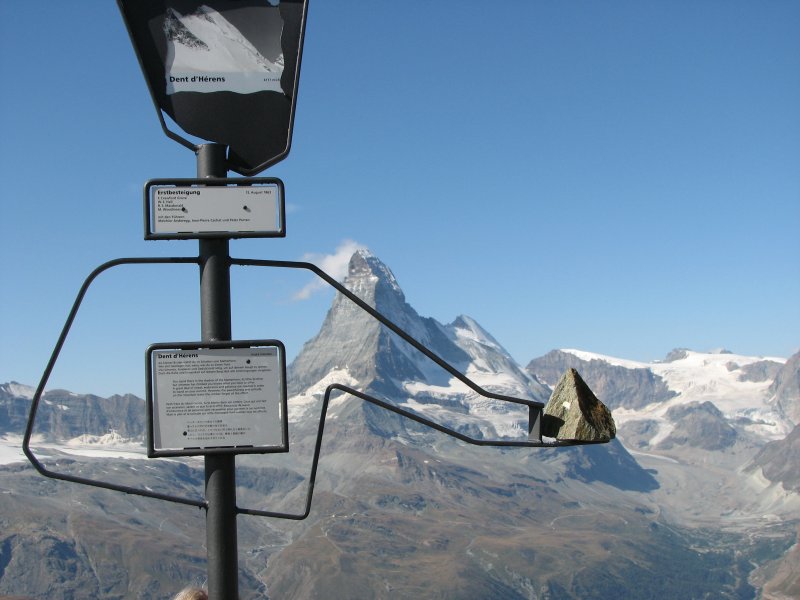 They helped us to identify and name all of the peaks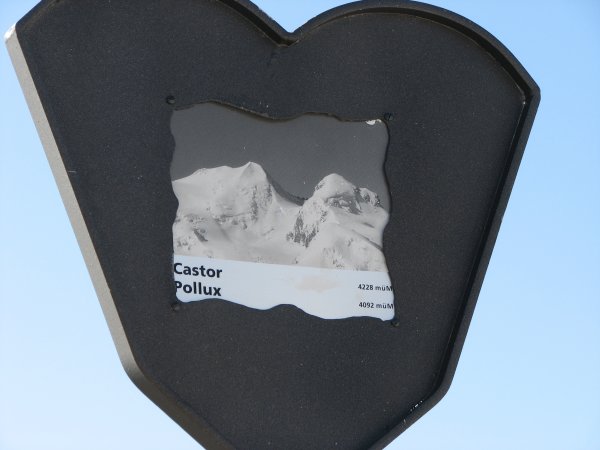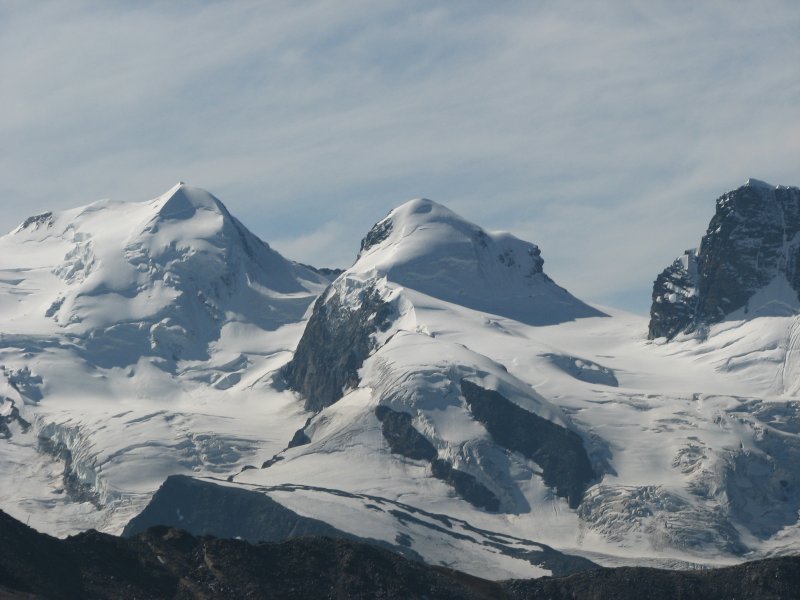 We were buzzed by the Swiss military – quite a surprise: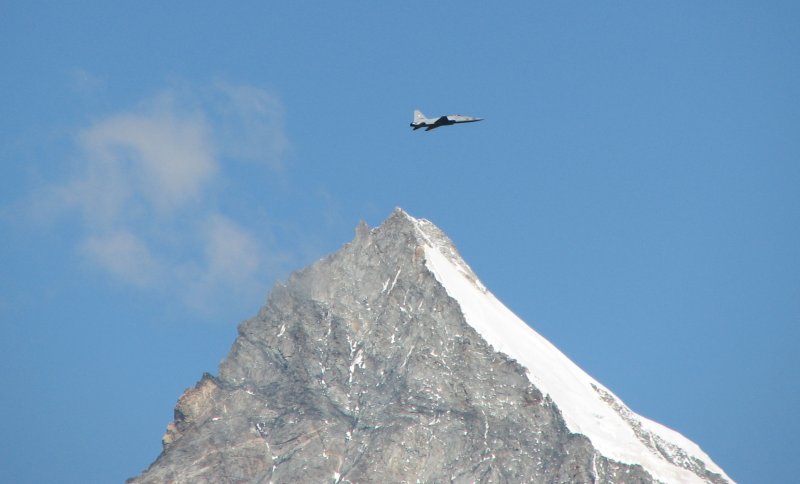 It was odd to see the barren back (southern) side of Weisshorn: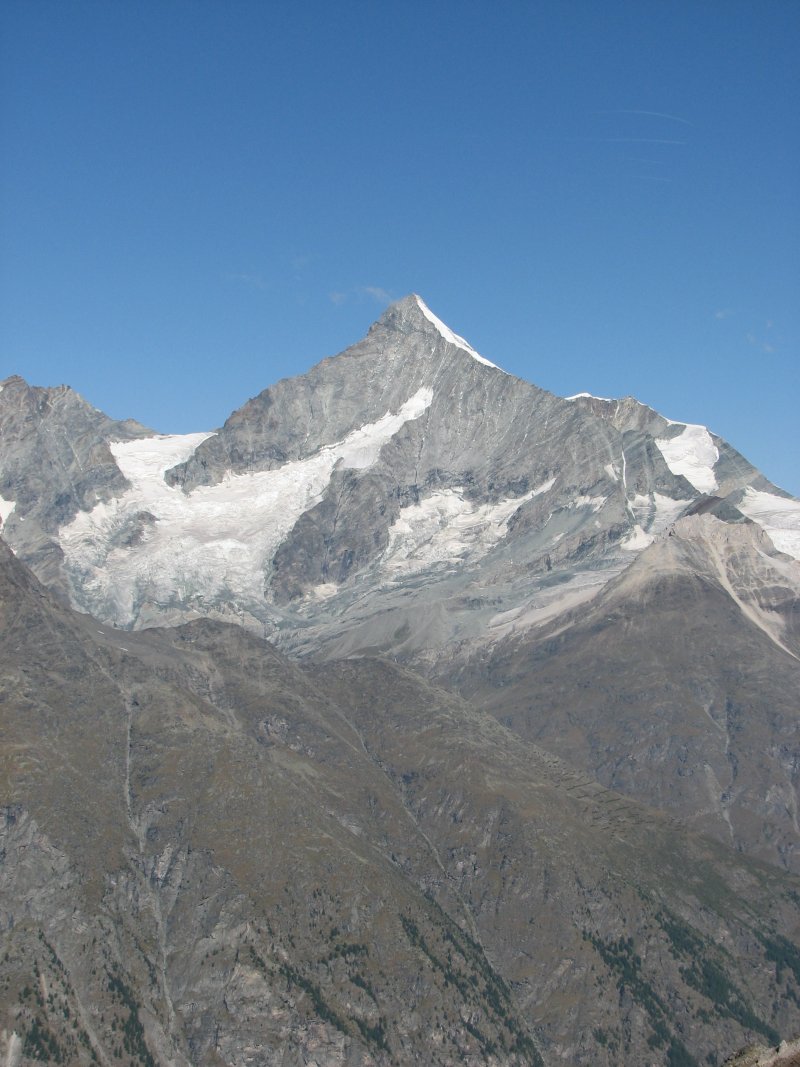 In the evening, we hopped onto the train to Basel, but didn't get to enjoy much viewing of the countryside because we were underground much of the time!
——————————————————————————————-
Rothorn was my favorite part of Zermatt.  For 360 degrees, there were mountains surrounding you.  And each one was different and special – commemorated by the photos and plaques that told the stories and emotions of climbing, summiting and finding peace and grace in the mountains.  It seemed a fitting place to end our trek.
My Matterhorn cairn