Day summary:
4.5 hours (Kev…)
11 miles
gain 479 m
It did not take 4.5 hours…  It wasn't hard, but it took longer than that.  Today was not hiking – it was walking.  Sometimes alongside a road, sometimes on a path above the river.  It was not challenging, but it was also a great last day, walking up the valley, through villages, finally catching a glimpse of the Mont Choco Matterhorn and eventually entering Zermatt.  We even walked through a golf course!
Here is the journal entry for today:
WE MADE IT!  We did not do the 2-day trek via the Europa Hut for reasons described earlier.  We did the "Alternate route: Stage 13" as described in the Cicerone book.  It took us awhile to find the way to the trail from St. Niklaus.  But we knew we couldn't go wrong, since all roads going south lead to Zermatt.  Much of the "trail" today was actually walking on roads or unpaved roadbeds.  Not always exciting, but occasionally interesting – going through small alpine villages.  We made it to Randa by lunch time – which we realized was a mistake since everything closes at noon.  We had lunch fixings but were psyched to enjoy a bottle of sodapop with it.  We walked by a small shop just as the owner was locking up.  I pleaded with him for 2 coca colas and he let me in to make my purchase – Danka!  We found a park bench a little further on and sat down for yet another lunch of bread, cheese and salami – but this time with REAL coca cola, sugar and all!
We alternated between paved road, path and unpaved road.  Sometimes we were walking next to train tracks, sometimes over them, but always beside the river, fed by glaciers "gletchers" from Breitthorn and the Matterhorn.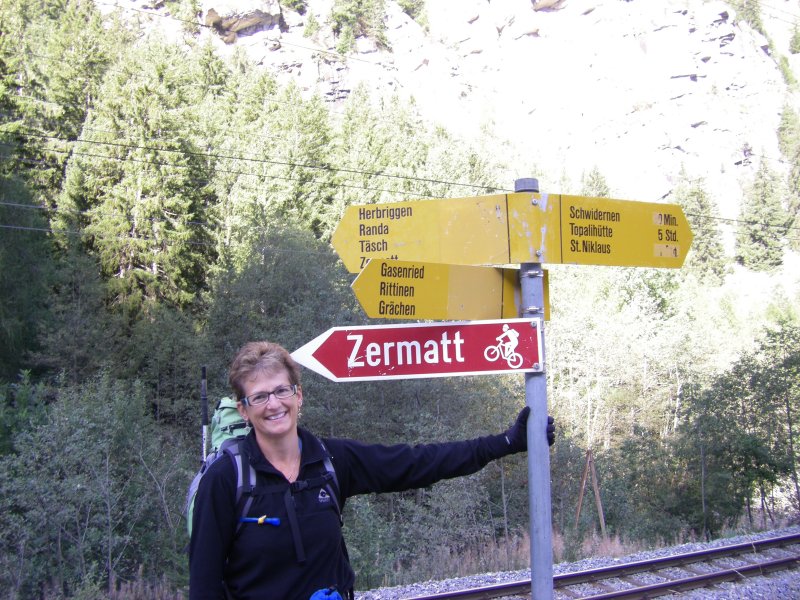 Finally, we walked around the bend and saw the Matterhorn, distinctive and obvious – for the first time! It was very impressive, though still far off.  As we continued walking, we understood Kev's comment that the north side of Zermatt is in a constant state of construction – which makes sense since that is the only direction for growth.  At a certain point, only electric cars are allowed into the city, but before you reach that boundary, there is a lot of traffic and trucks, hauling and building.
We finally descended to the road and made our way through goofy traffic to the train station and tourist office.  We called the Hotel Dufour to see if we could get a room a day early.  They said yes, gave directions and we made our way here.  It is another lovely hotel – with a great view of the Matterhorn!  Can't wait to see sunrise!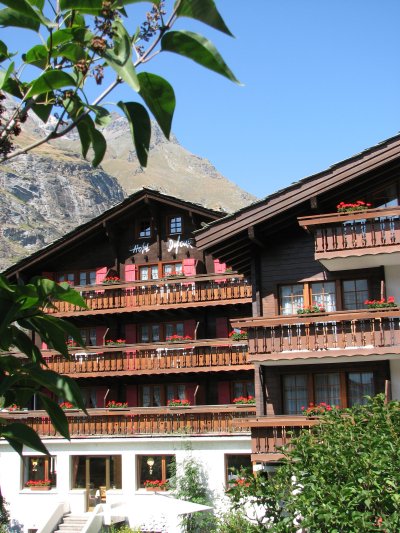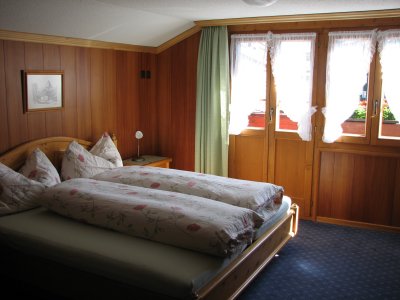 A walk around and a great – different – supper of ravioli and pizza.  And we are ready to sleep and then find a day of adventure here in Zermatt.
————————————————————————————-
Although not the rugged trek of our early trip days, we really enjoyed this walk through villages and into Zermatt.  To finally see the Matterhorn was fantastic.  Funny – it is not nearly as beautiful as many of the other peaks featured along this trek – Mont Blanc, the Combins, Weisshorn, Breitthorn – all covered with layers of snow, leaking glaciers on the north, but it is the iconic Swiss Alp.  And it serves as the symbol of our trek's completion – emblazoned on a cookie, no less!
View from hotel room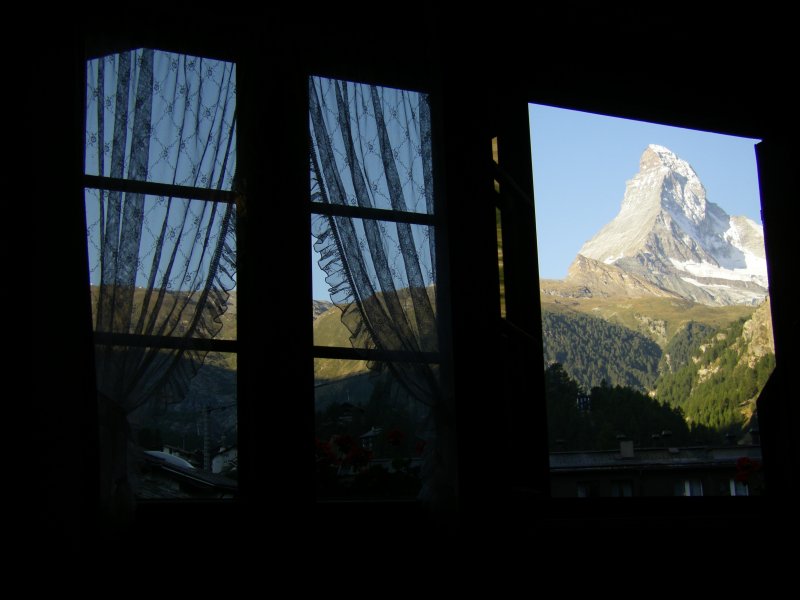 My sunrise shot!