Day summary:
7 hours (Kev time)
9 miles
gain 1072 m, lose 1767 m
This was not the day that we had originally planned.  We were going to hike into St. Niklaus, then take the bus to Gasenried and spend the night.  From there we would hike to the Europa Hut….  But you have already heard our change in plans.  This was a day of firsts and lasts…. first unplanned night, arriving in town without a hotel reservation and our last pass of the entire trip 🙁 or :)…  hard to tell – happy to be close to the end, sad to be almost done with this adventure.
Here is the journal entry for today:
Today was another long day, not for the amount of vertical, but because we kept expecting to go around a bend and see the end in sight.  Today we would go over our last pass!  Bittersweet thought.
We left Hotel Schwarzhorn at around 8:30 am, after almost everyone else – AGAIN!  It was a frosty morning:
It took 1 1/2 hours to get out of the valley – I think we were prepared for that.  Then we started heading over to Augsbordpass, the last pass of the trip.  The bad part was that it had a "false front," so we thought we'd made it, but then had another steep climb to go.  It wasn't particularly difficult, just long.  Cold at the top and view of new mountains, then we scurried down to a warmer spot for lunch (have you heard this before?).  We encountered several groups headed in the same direction, and saw our first group of campers on the whole trip.  We were surprised to see a little green tent settled in amongst the rocks.
Again – not psychologically prepared when we got down and out of the pass, we had a LOONG  valley wall walk before getting the pay-back panoramic views Kev promised.  Finally we did make it around that bend, and the skyline was fabulous!  We both took 360 degree shots to stitch together later.  Then DOWN, DOWN, DOWN again.  For the third time today it seemed to take forever to get down to where we were headed: the cable car at Jungen.  Once we reached St. Niklaus, we used the tourism office to find us a place – now we are both tired but showered and ready to relax until tomorrow.  We have an extra day since we did not go via the Europa Hut.  We could stay here another night, but will likely head to Zermatt and spend another day there.
———————————————————————————-
It is interesting to re-read this journaling.  It is obvious as the days go on that we're getting tired, but this trip was so amazing and beautiful – it was worth it!  Be inspired – not discouraged.  This is a view worth hiking for:
I could tell that Barry was feeling much better – he beat me up to the pass!
Somewhere along the trail today, I saw this mangy looking thing: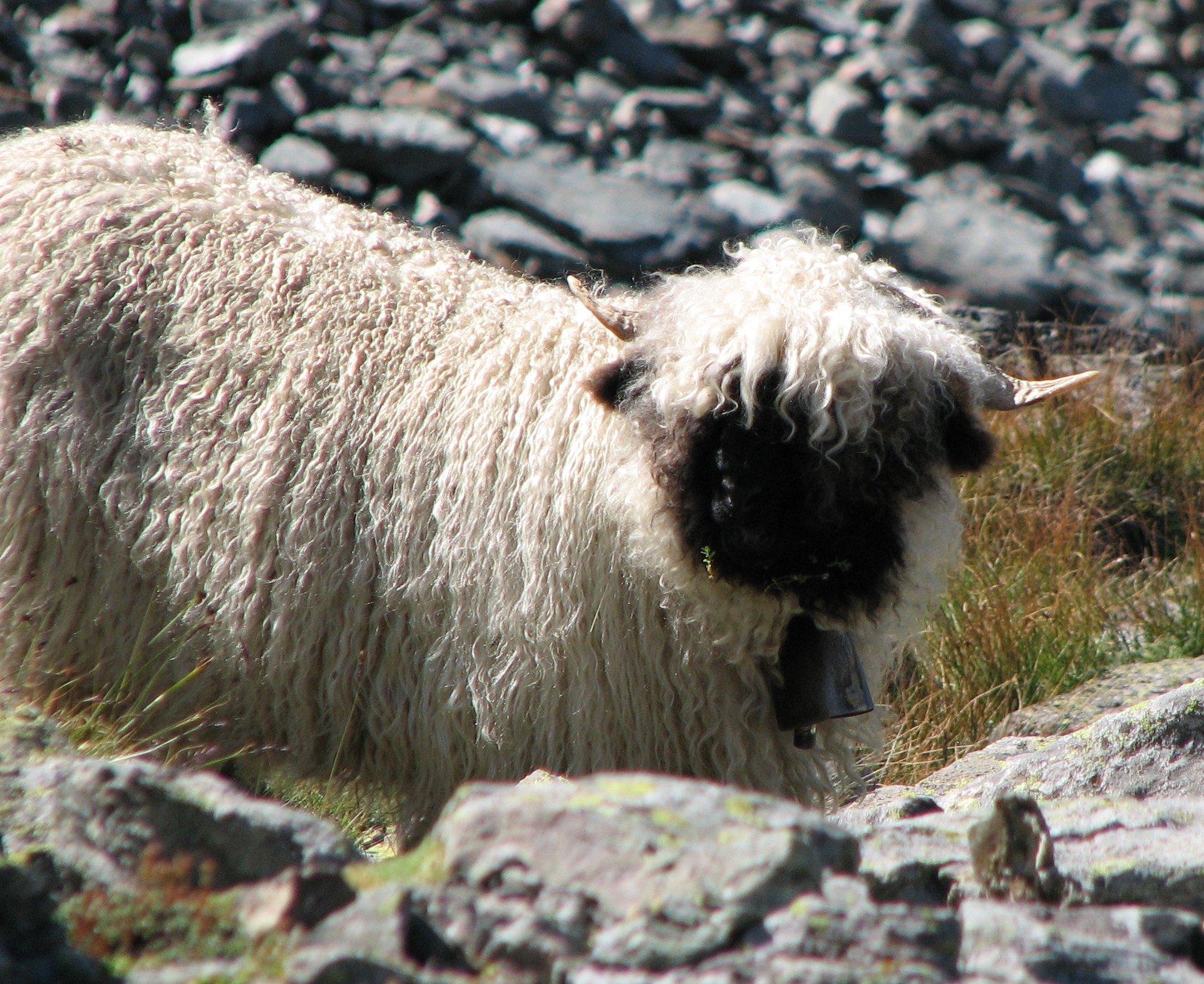 For the first time (since my little detour to Prafleuri) we walked over snow along the valley wall.
The valley wall walk was more boulder-jumping – but as we got closer to Jungen, there were stretches that were more "developed" or man-made.  It was beautiful – views down the valley to the north and of Alps in every other direction.  Can you ever really get tired of this?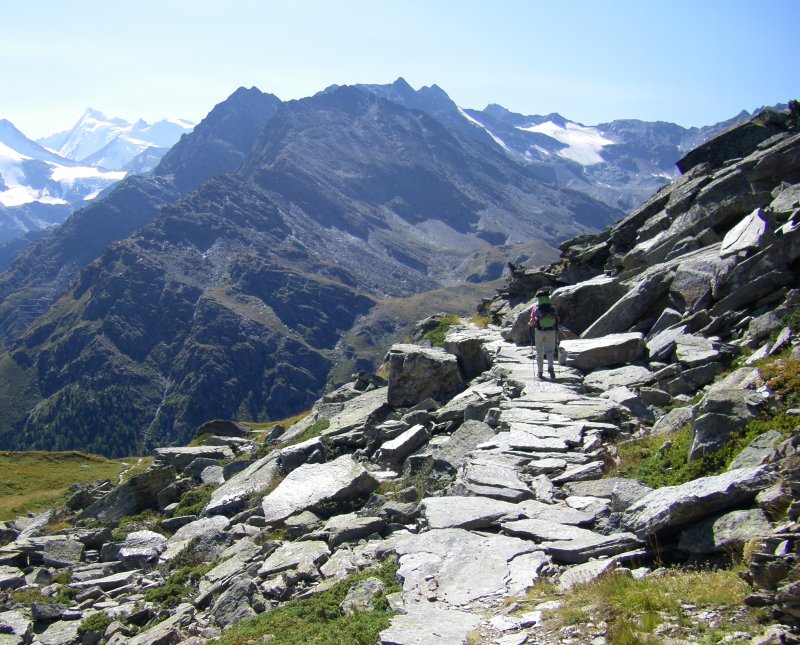 The walk down to Jungen involved hiking back and forth down the slope to reach this remote little farming enclave – an isolated village accessible only by cable car (?).
When we arrived at the cable car access, there were three people sitting on the 4-person-capacity car waiting to descend.  Without any English, we figured out that there was a camera and "call button" to let the operator at the bottom of the hill know that someone wanted to go down.  Why these 3 were still sitting there, I'm not sure.  Anyway, we waited for awhile, and were frustrated that nothing seemed to be happening.  Thank goodness that a Swiss German-speaking couple arrived and communicated with the operator – Voila – the car descended and another ascended – and we were able to board and glide down the very steep hill into St. Niklaus.  Neither of us has been that far off the ground and NOT been in an airplane – the slope was that great!
Narrow street in St. Niklaus