Day summary:
6 hours (Kev again)
8.5 miles
gain 1199 m, lose 459 m
We followed (in the opposite direction) the Z's marking the trail, courtesy of the Sierre to Zinal marathon: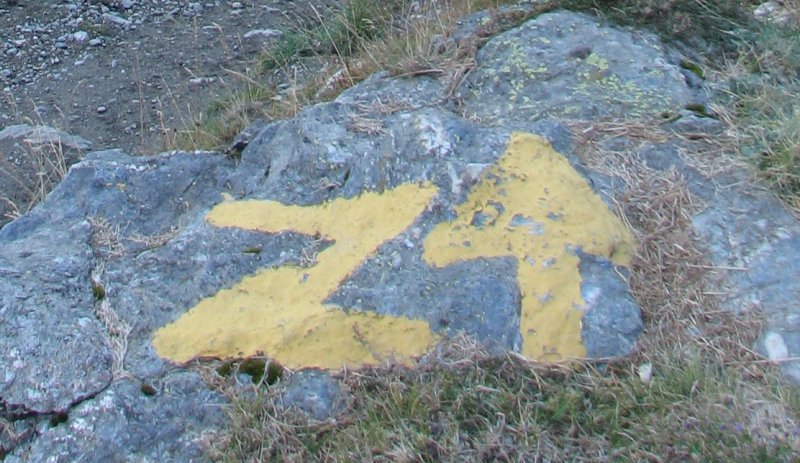 Today we only had one spot when we weren't sure of our path.  More people hike to Weisshorn, so that track is quite visible.  The trail heading up and over to Pointe de la Forcletta is a little less obvious.  We made the transition today from French Switzerland to German Switzerland – quite a contrast in language and culture.  The change is visible on the maps when "cols" become passes and "mont" changes to "horn."  It took about an hour to get out of the valley – it is the hallmark of this trip that you hike up in the morning just to hike down in the afternoon just to hike back up again the next morning.  We are literally crossing the "nap" of this corduroy-shaped terrain.
Our journal entry for today:
Bonus at breakfast this morning: they had a great breakfast (petit dejourner) buffet today.  We were the first ones down there, waiting for them to set it all up.  Then they delivered up fresh-from-the-oven croissants!  YUM!
We had a great day of hiking today.  It was super clear, but COLD.  We saw snow in shaded areas and icicles on grass by a stream.  It was a steep climb out of Zinal – not surprising, but then the trail stays at a fairly level height, following along the west edge of the valley.  We passed lots of munching cows, one of whom did not want to relinquish the path to me.
Finally we reached the fork where we headed west, breaking off from the more popular route to Hotel Weisshorn.  There wasn't much of a marked path – it was just up a steep slope with lots of rivulets of water running down.  Eventually we reached a road that took us to the farm house and cross described by Kev – the alp of Tshalet.  To reach the start of the pass (Forcletta), you cross over some grassy hills.  The pass was surprisingly easy, compared to the several we have crossed this last week.  It's a steady climb, but there is no scrambling.  The view at the top is disappointing, though.  You can't really see all the cool peaks to the south yet.  It was also very cold and windy, so we kept hiking down before finding a comfortable spot for lunch.
The view from Chalte Berg is magnificent –  Weisshorn, Bishorn and the Tete de Milon are massive and the glaciers impressive.  After that it was just knee-grinding downhill to Gruben.  We didn't take the path recommended by Kev because the sign indicated that we'd get there quicker on the one we chose.  But when you get down to the road, you are still at least a mile (or more?)  from the center of Gruben, so we should have taken the other trail.  We got lucky because 2 men were finishing up their work and heading home down into the valley.  They offered us a ride in their van – and as you can imagine, they didn't have to ask twice.  They delivered us right to the hotel door and Barry offered to buy them a beer – they accepted, but chose coffee, and then we tried sustaining a conversation with their limited English and our non-existent German.  Kristof and son, Erik, were both very nice and kind – what a great introduction to this German side of Switzerland.
Hotel Schwarzhorn is very comfortable.  We have a sink in the room and there are newly remodeled showers and toilets across the hall.  Dinner was only so-so.  Nothing like what we have enjoyed so far.  Soup – what kind?, nice salad, then thin slabs of pork with gravy, shredded carrots and PLAIN spaghetti noodles.  Dessert was cold chocolate pudding.
The hotel has a good supply of lunch items and other food – good thing since there is NOTHING else in Gruben.
Apparently the hot time on a Saturday night in Gruben is standing around in the street outside the bar, by the cows, drinking beer!?!
Good night – I'm beat!
————————————————————————
Hotel Schwarzhorn has several floors featuring private rooms with a communal bathroom down the hall, and a couple of dortoir-style rooms on the upper level.  There is a bar on the lower level and then a little grocery store, check-in desk and the main dining area on the first level.  Inside the front door is a 3-D relief map of the Alps that gives a good perspective of the trip.  I think there is one other dortoir in Gruben, but it is a very small town without much going on.  We probably saw more people and activity since it was a Saturday.
Once out of the valley, we walked at a steady level along the slope and encountered many cows.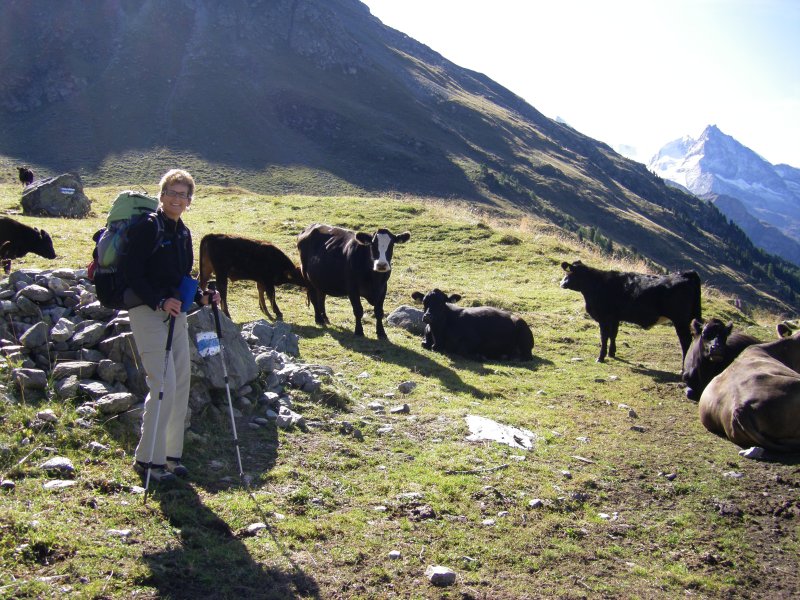 Moooove over!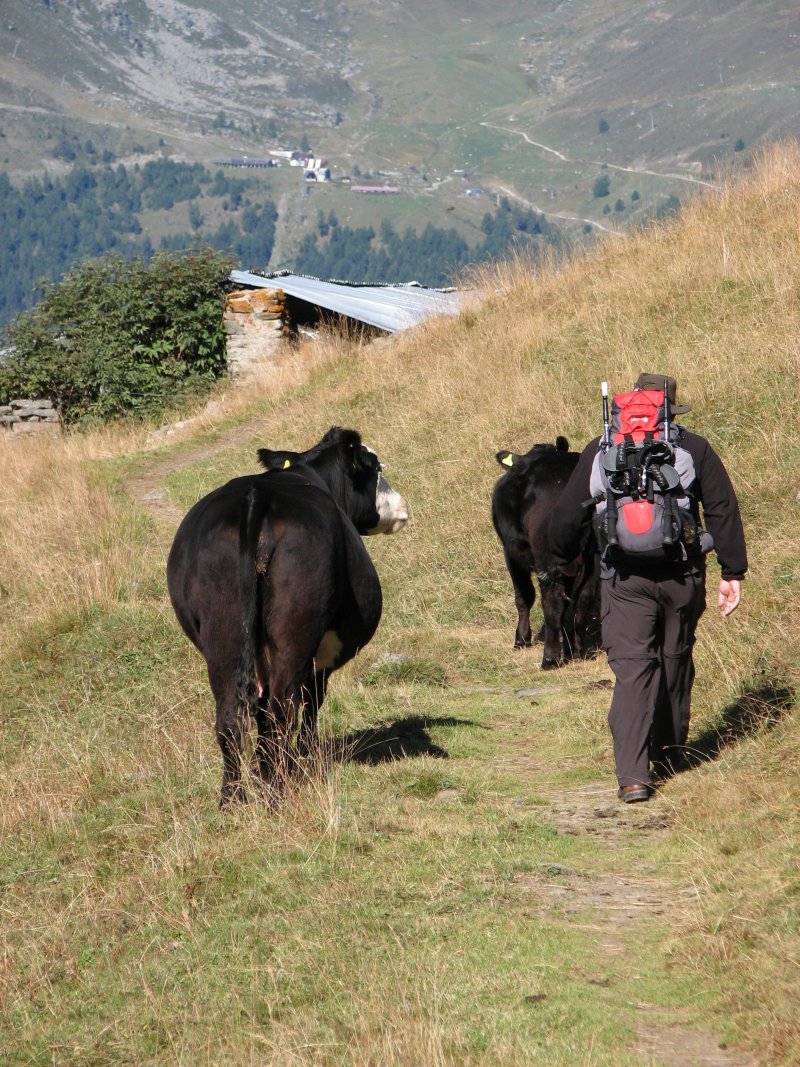 Signs along the way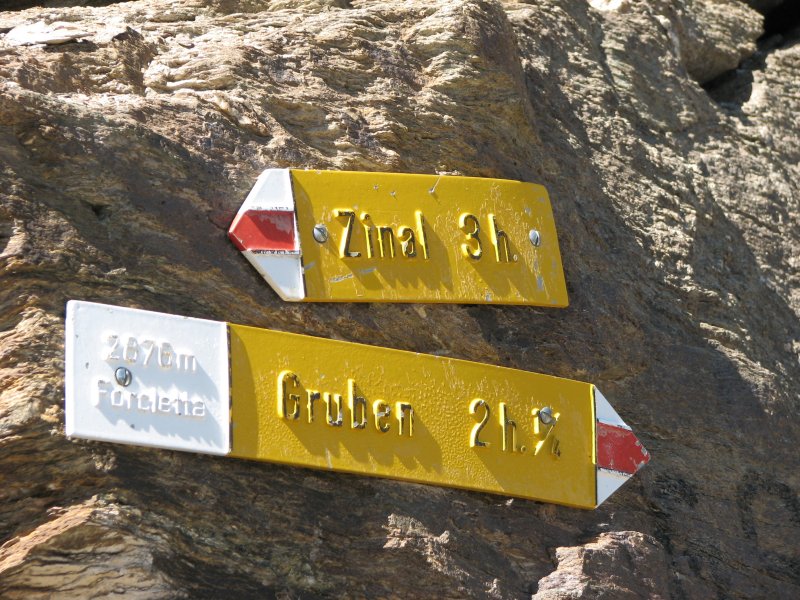 It wasn't hard to figure out why they chose to build here – Chalte Berg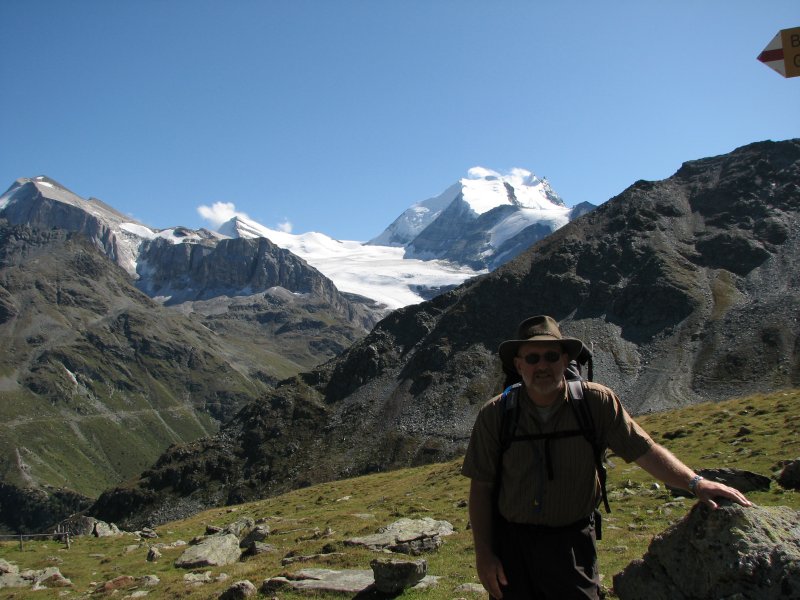 The village of Gruben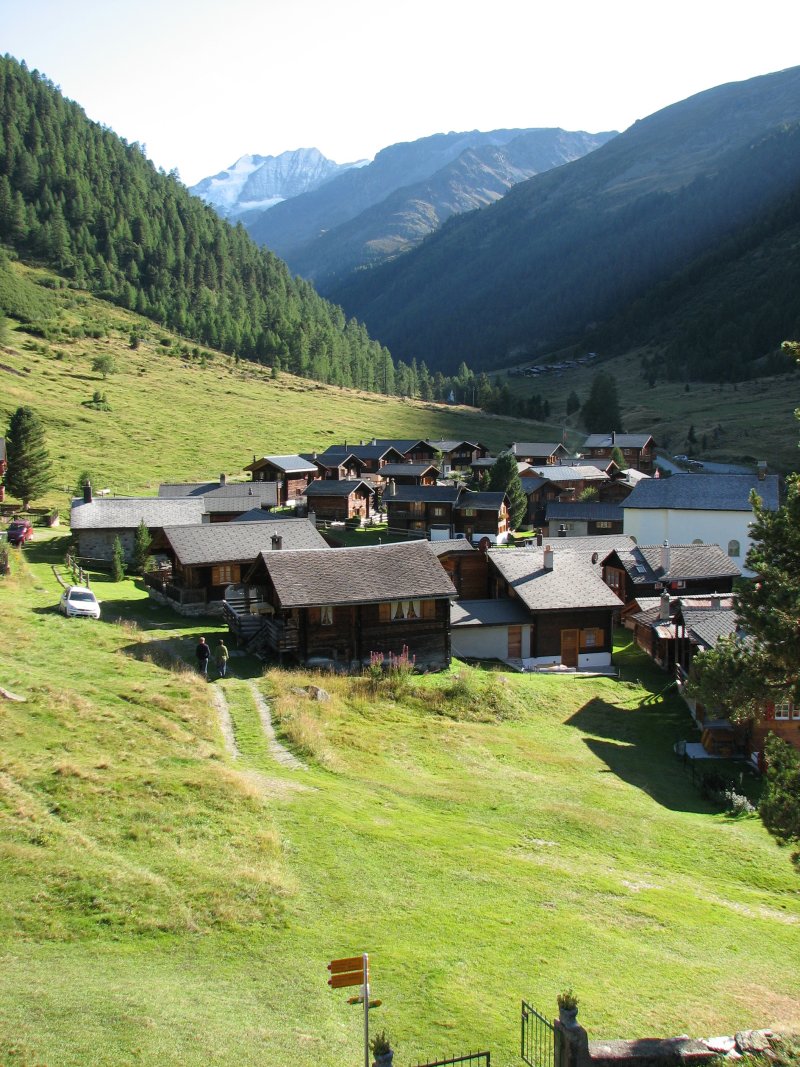 Hotel Schwarzhorn – looks just like the book showed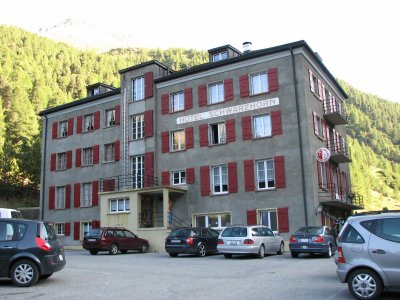 A view of our room