Day Summary
6.5 hours (Kev time)
9.5 miles
gain 735 m, lost 1353 m
And we thought yesterday was hard…  Looking back, if I had known what this day entailed, we might never have taken the trip.  Or I would have at least done anything to avoid this day.  I HATE heights.  I like to think that my fear of heights is healthy.  There are reasons why you shouldn't get too close to the edge or be too far off the ground!  I'm not an over-the-top acrophobe; I can rock climb, as long as I'm roped in and trust my belayer.  But I once had a small panic attack before climbing up Half Dome in Yosemite, and I was unable to overcome a more serious sense of panic while attempting the Mountaineer's Route of Mount Whitney in California.  I'm actually surprised that I was able to meet today's challenge without a similar episode.  And I guess I'm also surprised that this trail is even included on the Walker's Route – it is seriously vertical.  If you can handle ladders (which I don't do well with), then there is an "easier" way over Riedmatten (Pas de Chevres); but however you slice it, getting over the pass is seriously steep.
Here is the journal entry for today:
Today was another LONG day.  Kev's distance and timing are laughable (or cryable!).  Prafleuri is in a DANK, DARK area that is the beginning of a dam further down.  We first had to hike a short distance to get to Col de Roux – not so bad.  Then it seemed to take forever to get down to Lac Dix.  Barry's blisters really bothered him.  He felt slow, and even worse, he felt bad about being slow.  CURSE Kev and the signs for being misleading about time expectations.  We finally made it around to the bridge on the other side of the lake where we stopped and fortified ourselves with a snack.  Then we were ready to attack the long ups and downs before making the final push UP to Col Riedmatten.  There was a detour to get past an avalanche wash-out of the trail (noted in the book), and then over and up and down and around lots of boulders.  I'm getting really tired of that.  But the "hike" – that is CLIMB up to the col was crazy/amazing.  Forget not making it up Whitney, this was even more challenging.  And the weather was on again/off again with showers and clouds.
This was a challenging day – have I emphasized that enough?  Making the col was fabulous, but it was cold and windy, so we had to descend before taking a break for lunch.  We have learned to celebrate making it over passes by having little butter cookies with chocolate Matterhorns on them (called Mont Chocos).  YUM!
Once on the other side, it was much easier hiking down into Arolla.  When we finally arrived, we stopped for a beer and a break to relieve the blisters.  Then walked down to our hotel – Hotel Mont Collon.  This is a crazy OLD hotel – with 5 stories and I think there is only one other room occupied tonight.  They knew who we were when we arrived.  Old, creaky place, and though I had reserved a room with just a sink, the owner graciously offered us a room with a bath at no extra cost 🙂
Dinner was amazing!  The food was great and the service equal to the best restaurants we've been to – and there was only one other table of 2 being served (though the owner's family was also eating at a large table around the corner).  We had a full 4 course meal – soup, salad, entree and dessert that was delicious.
Tomorrow we plan a break from the original schedule.  The weather isn't great and Barry's feet need some time to heal.  Bon soir.
—————————————————————————————
The view down to Lac Dix after passing Col de Roux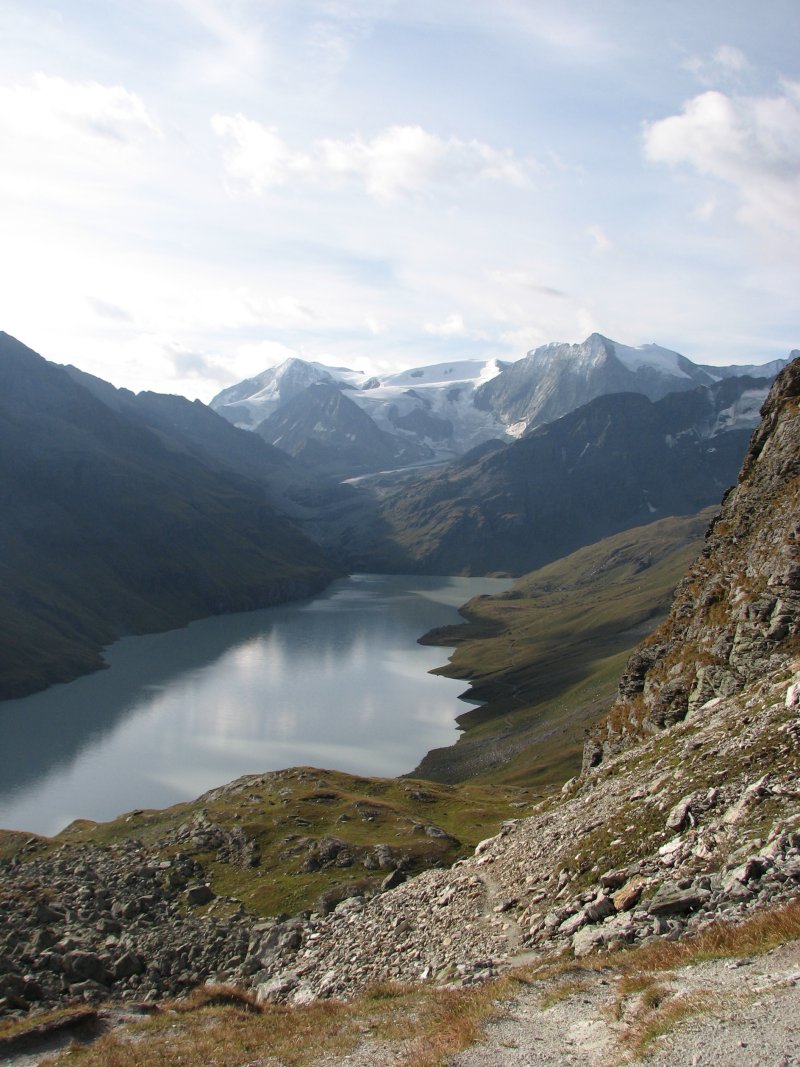 It didn't look that far away, but it seemed to take forever to get down to the lake – maybe that was just because of the blisters…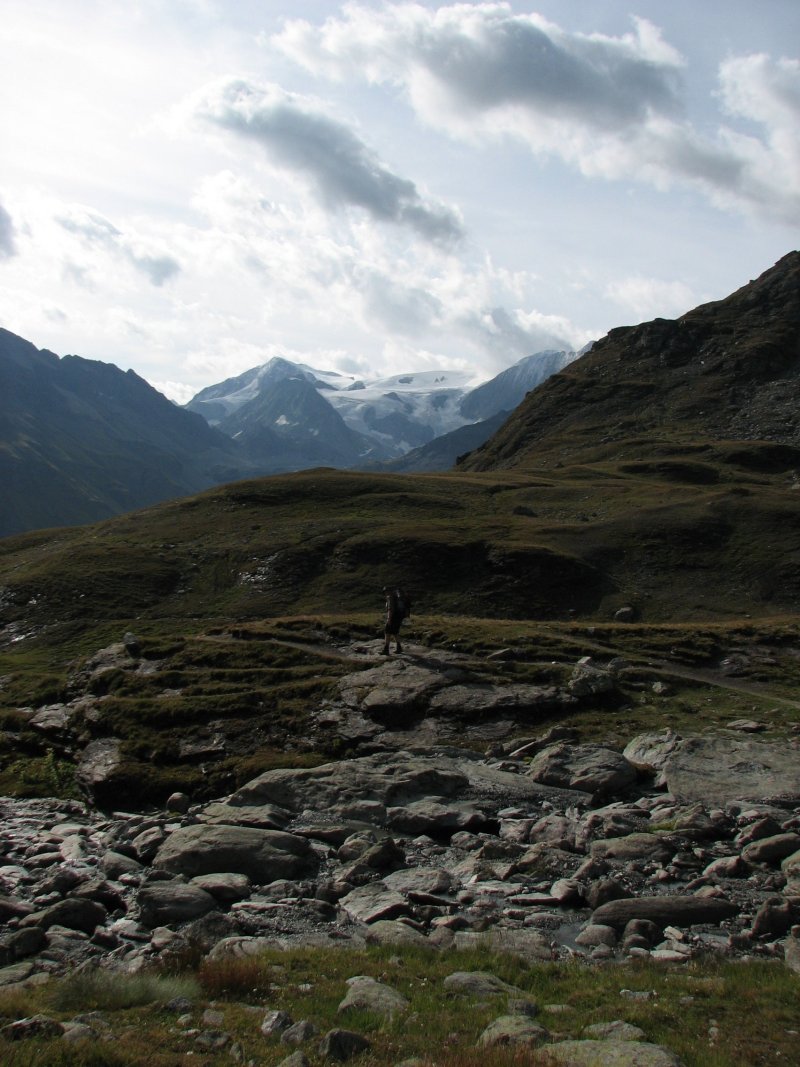 There were a lot of marmots checking out our progress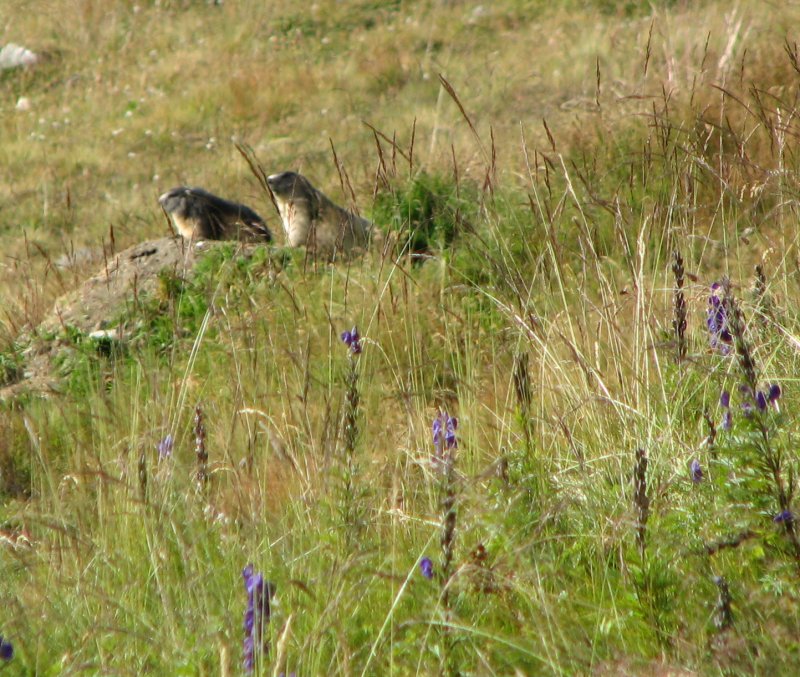 Lac Dix from the other side – you can see the road that we walked on the left side of the lake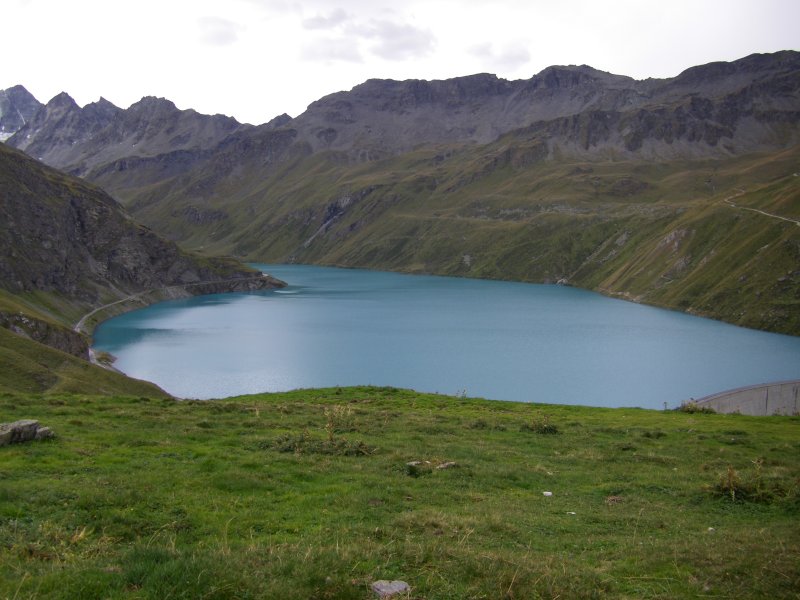 Hiking up to Col Riedmatten – steep, but the ladders at Pas de Chevres scared me more than this did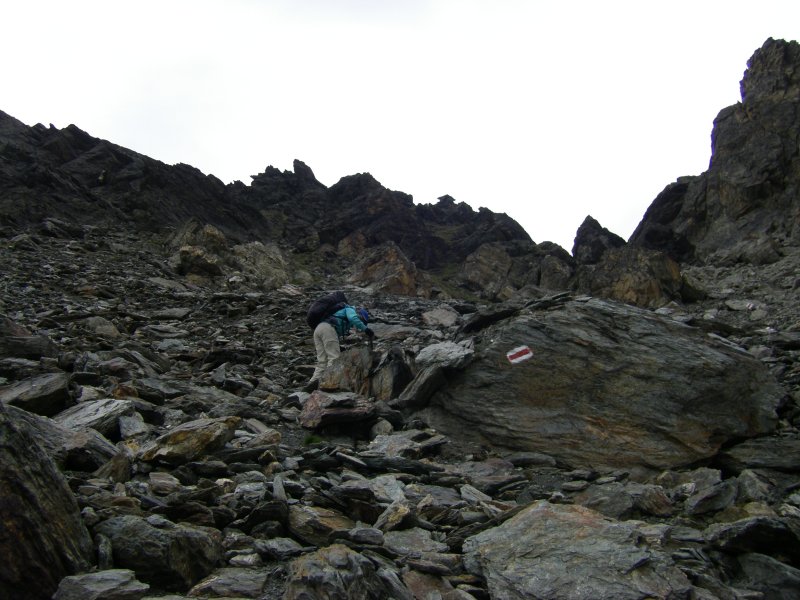 WE MADE IT!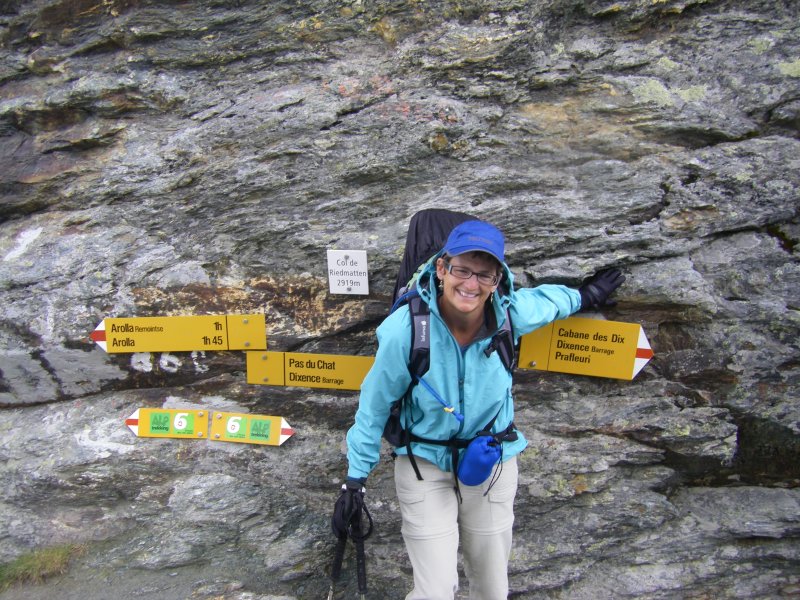 It was cloudy and cold – so we made our way down before stopping for lunch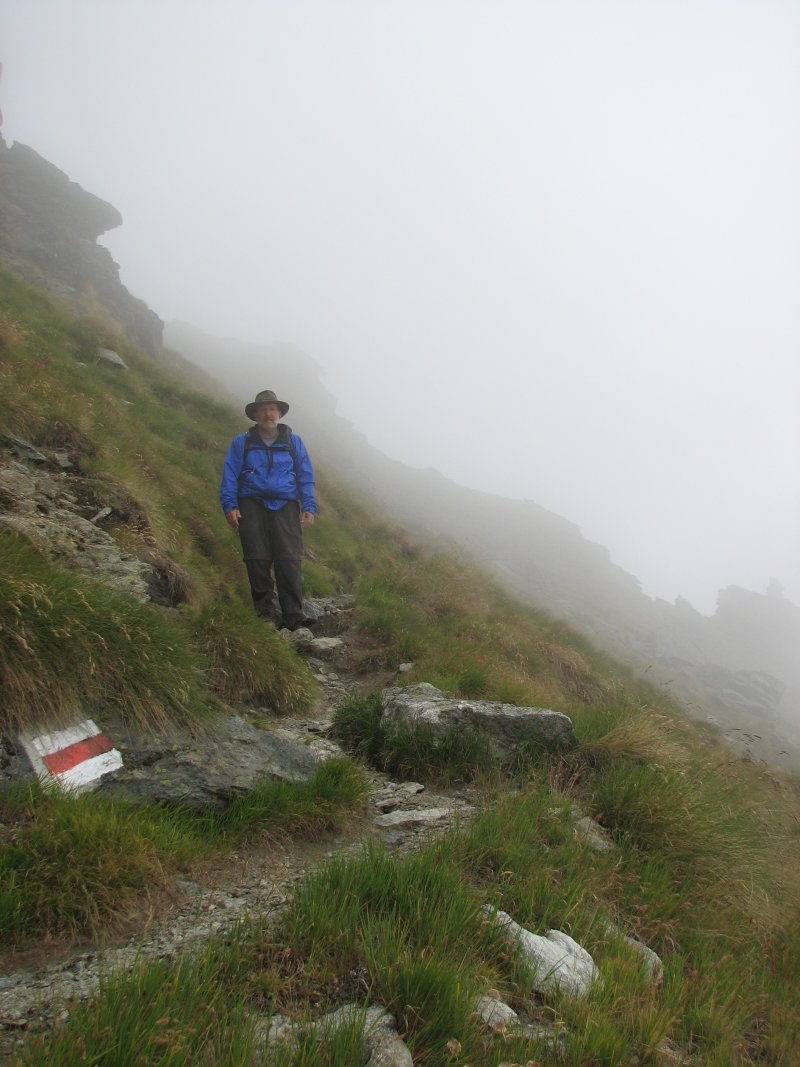 The town of Arolla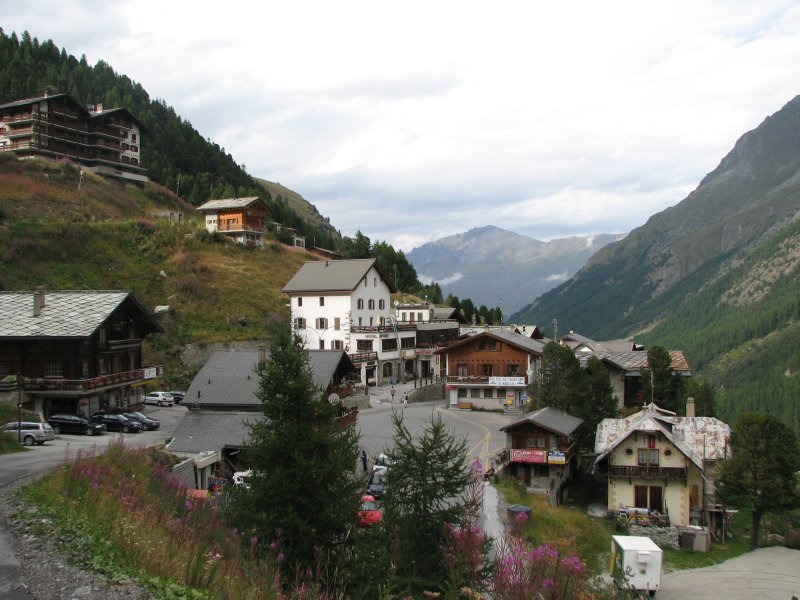 Mont Collon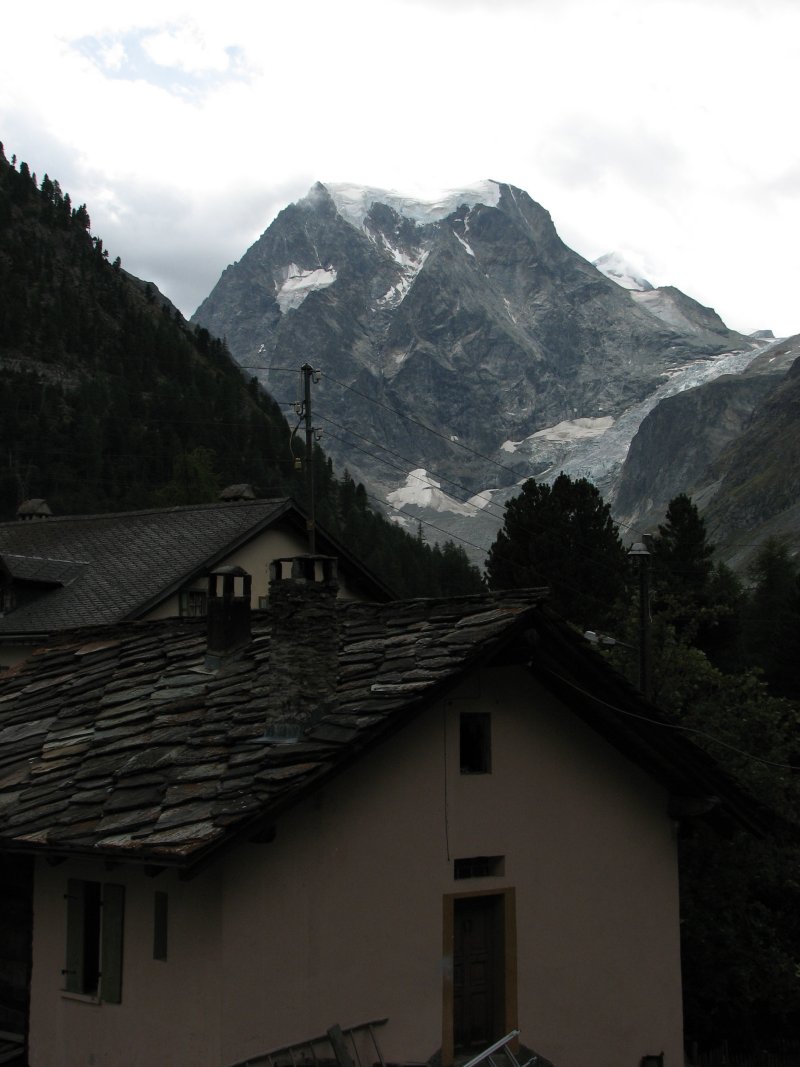 Our fabulous hotel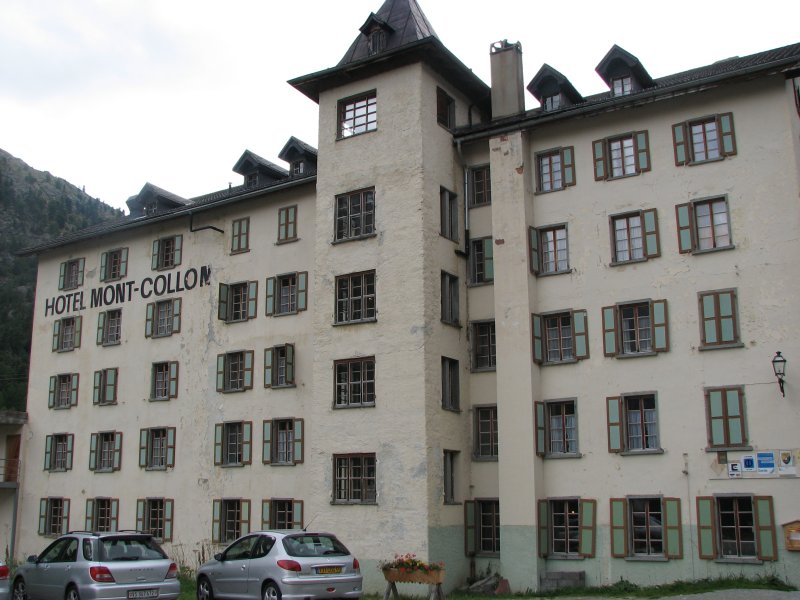 Our "summit" treat (to celebrate making it over passes since we weren't actually summiting anything)