Day summary:
7 hours (Kev time)
8.5 miles
gain 1386 m, lose 1199 m

This was a fantastic day – tough hiking over the first pass, but not bad, and the views were fabulous.  The Trient Glacier is astounding!  It is sad to realize that it is shrinking so quickly due to global climate change.
Here is the journal entry for today:
We really weren't disturbed by runners all night.  We both even slept through the ambulance that came at 4:00 am (according to our dortoir mates).  There were still runners coming through in the morning.  The rule was that they had to be in Trient by 8:00 am, so we didn't see a lot after that hour.  That's about when we left for Champex.  We parted company with the French women and with Roland, though we knew we'd likely run into him again.  And we did.  The hike out of Trient and up to Le Fenetre d'Arpette was STEEP and arduous.  We walked alongside the Glacier Du Trient – apparently much smaller than before (Barry conversed with a fellow hiker who had been here 10 years before who reported that it was several hundred meters smaller now).  Barry claims that I can tell (my sister) Sia that I no longer have to climb Mount Whitney – the mountaineer's route – (a trip I failed to complete several years ago) – what I did today was much more difficult and steep (though at a lower altitude)!  We definitely had to scramble with hands a few times.  You couldn't really tell where you were headed until you got close enough to see backpacks sitting on the rocks.  Kev calls this the Champs d'Elysees of the Alps because of the number of people hanging out there.  There were day-hikers as well as through- hikers from both directions.  We did meet Roland up there  again, as well as Marco, a fellow from Finland.  They were both headed short of Champex, staying at the Relais d'Arpette.
After a tedious rock-jumping trek down the other side, we stopped at the Relais to use the bathroom and enjoy a diet coke before heading to Champex.  We met Marco there and sat with him, Roland and another guy (a Jewish Russian ex-pat living in Israel), while we rested and refreshed ourselves.  This is going to seem crazy, but you MUST stop at the Relais d'Arpette to check out the toilet.  As soon as we figure out how, we'll be putting in a link to the video I got with my camera.  The toilet has a mechanism that sticks out, grabs the toilet seat and rotates it all the way around while cleaning it!!!  I've never seen anything like it!
The trek from Arpette to Champex was easy and there were many Sunday walkers along the way.  Our hotel was in the middle of town and was very comfortable – L'hotel du Glacier (a Minotel hotel that we booked on line).  There was a sauna and whirlpool down the hall that we didn't even use.  The lake is full of trout, and I decided to have that for dinner.  Yum!  There is no ATM in town however, and limited groceries, though we had a great petit dejeuner at the grocery/cafe owned by a former skier, Lovey Leon.  There were plenty of medals in the case by the door and an article that claimed the UTMB is nick-named Le Trotte de Leon because of him.  We'll have to Google him when we get home.
——————————————————————————————————————————————-
Our dortoir companion, Roland, was very informative about the history of this area.  He described the waterways constructed all over the mountains that help bring glacial melt down into the cities, providing water and preventing excessive erosion.  These are called "bisse" – we basically walked beside an extensive bisse until we came to the base of the glacier, where we started climbing upward more steeply.
This is a bisse: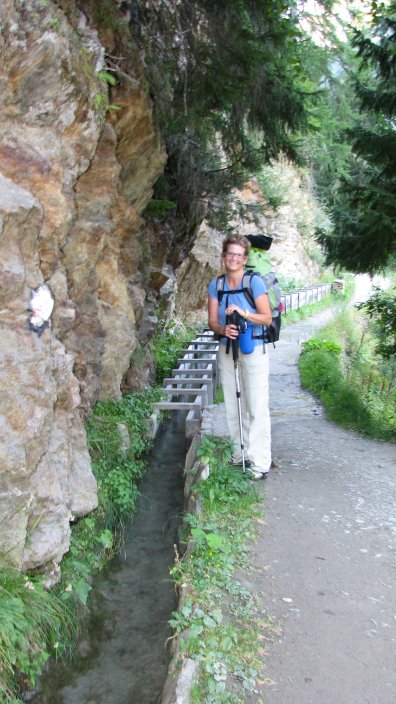 River at base of Trient Glacier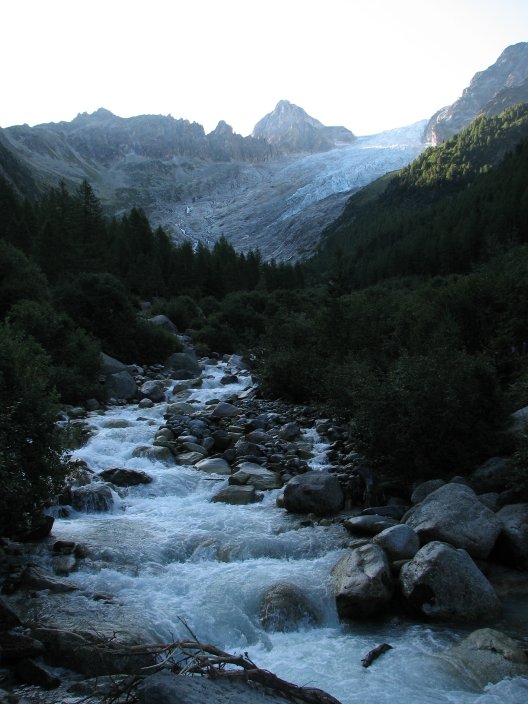 Trient Glacier – hard to get a good photo with the bright sun and ice on top and cool shade below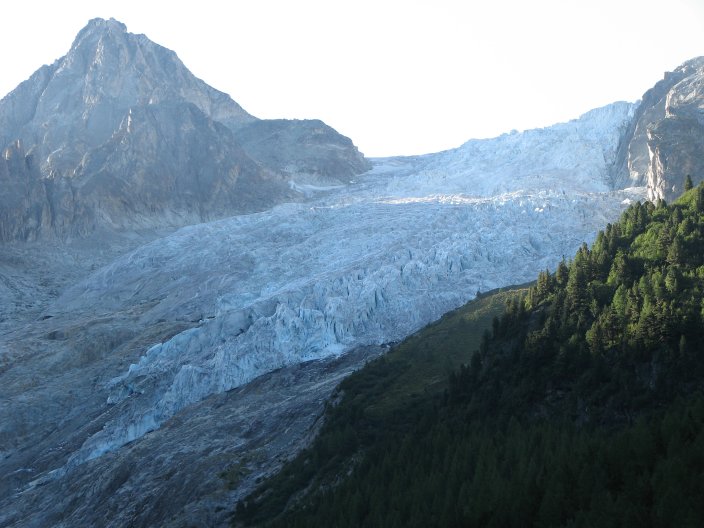 Hiking up to Le Fenetre d'Arpette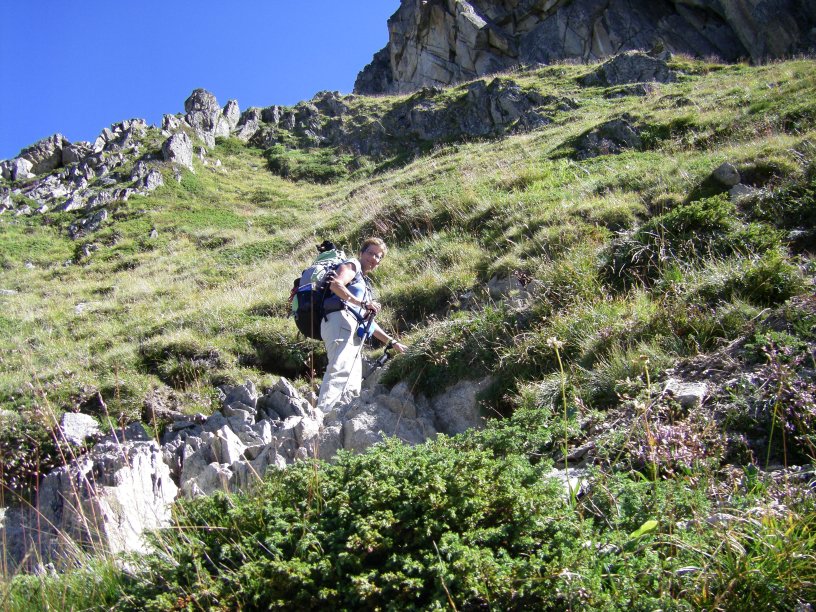 Atop Le Fenetre d'Arpette – a fenetre is a window – this one had great views on each side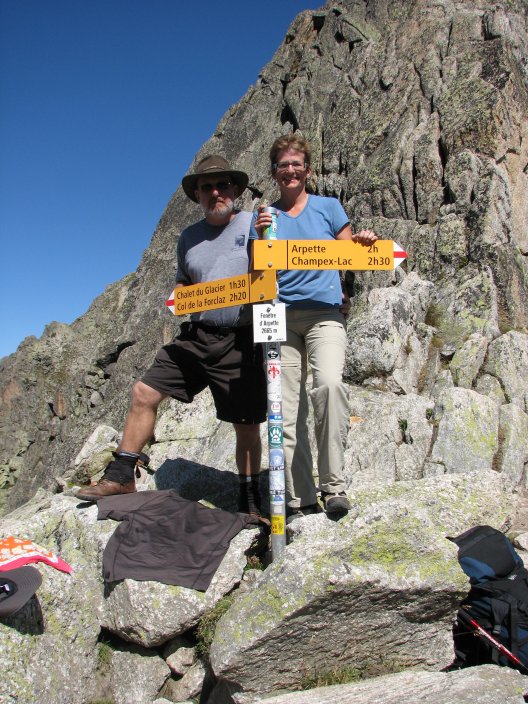 View down the other side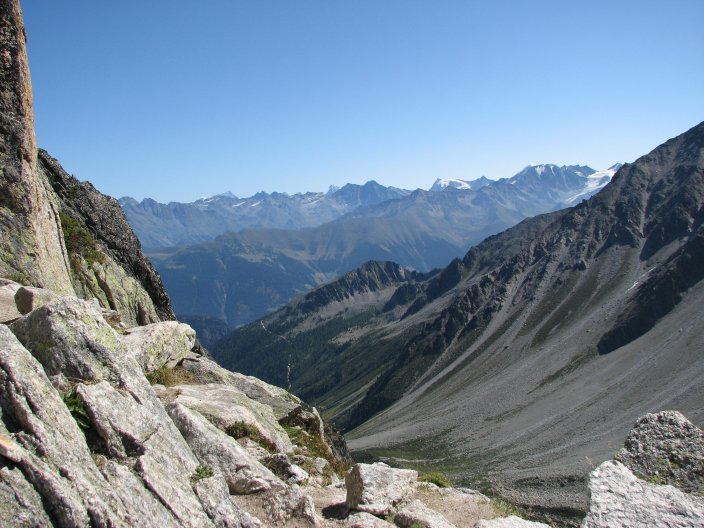 Hiking down from Le Fenetre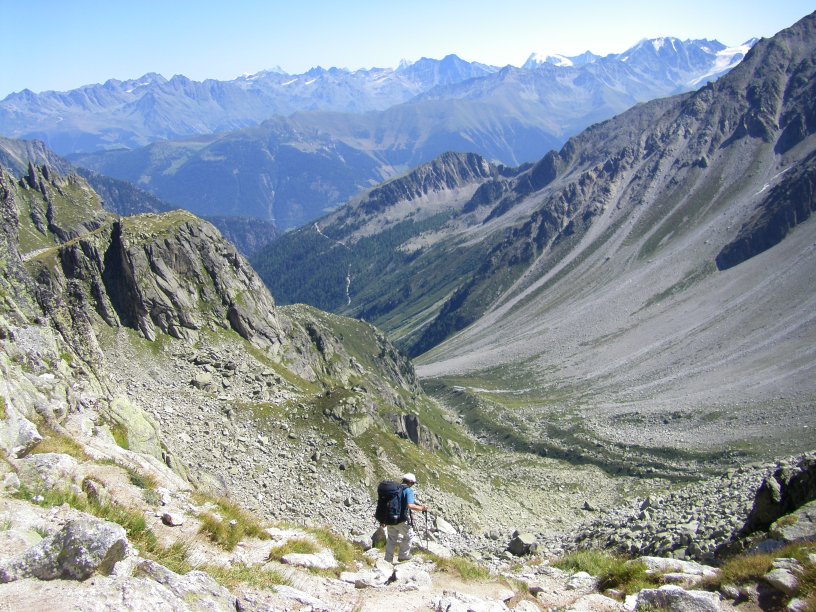 Looking back where we just were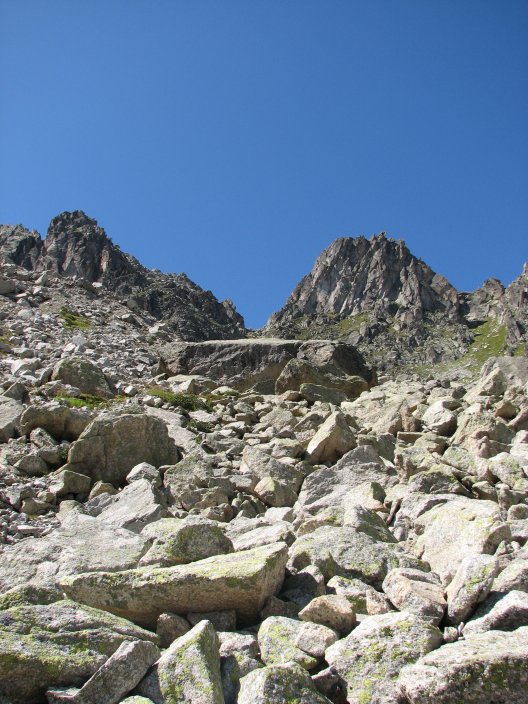 Zoomed in view – you can see the signpost and other hikers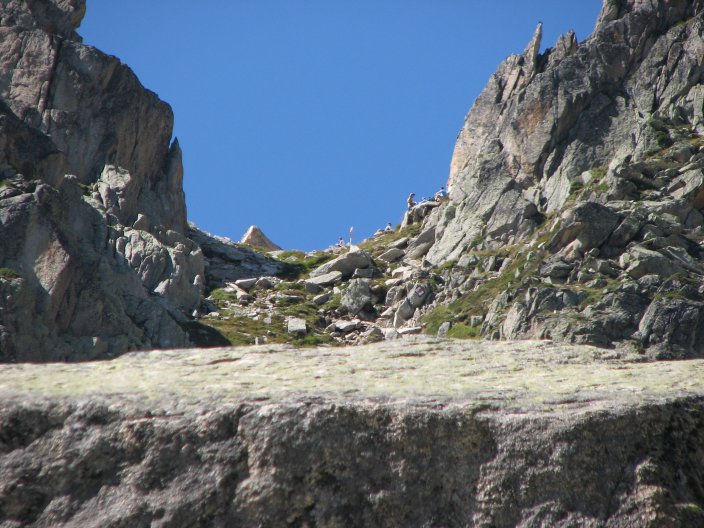 Easier hiking down into Arpette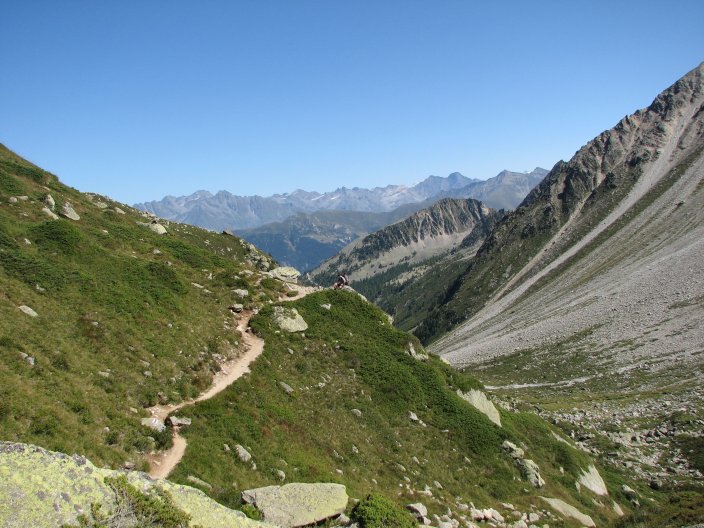 Beautiful tiled roof of hotel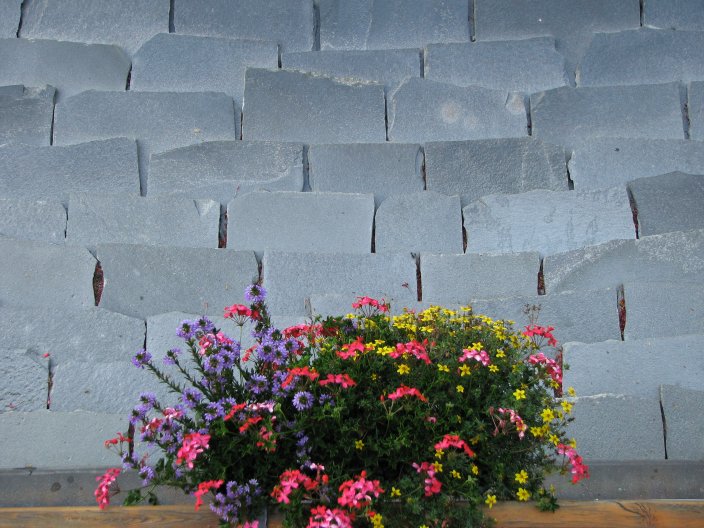 Champex Lac