We arrived in Chamonix in the morning – so had to wait to get into our hotel room.  Not a big deal – our hotel graciously stored our bags while we wandered the town and had lunch.  We stayed at Hotel les Aiglons Resort and Spa – situated near the entrance to the village.  We booked our room through Expedia, though it looks like you can book directly from their own website now.  It was a great place – modernized and energy-smart (hall lights turned on as you entered and turned off when no one was there).  We felt pampered and catered-to during our two night stay.  They had a great pool/spa/sauna area that was clean and pleasant after walking the streets all day.  They also had an amazing breakfast buffet – try not to stuff your pockets with the plentiful food!  And any extra request was responded to like we were at a big city 5-star hotel.  We saw other groups taking advantage of pack lunches to take with you for the day, though we opted to buy bread and cheese from one of the many small grocery stores in town.
We followed the advice of a seasoned traveler from the flight over who recommended just staying up – not trying to nap at all that first day – in order to overcome potential jet lag.  It definitely worked like a charm.  We had slept some on the flight, obviously, but not a normal, restful 8 hours.  We went to bed that night and woke the next morning completely converted to European time.  We did the same thing going home, and neither of us had any trouble.
We have no idea what Chamonix is like when it isn't crowded with runners and their entourage.  It is obviously a ski resort town, with tons of restaurants of all varieties and expensive clothing and gear stores.  The post office is in the middle of town, though I was able to buy stamps at any shop that sold postcards.  We walked around a lot at first, but then realized that there was a free bus that ran a route around town, with numerous marked stops.
Here is the journal entry from August 28:
We are WELL rested at last.  We wandered around town even more yesterday, checking out shops, scoping out where to get food and water, deciding where to eat dinner and what we might want to do the next day (today).  We had a yummy "local" meal last night.  Barry wanted to find a place with a "menu complete" – 3 courses of real French cuisine.  But who knows what's real cuisine when you come to such an area?  My meal was thinly sliced potatoes, sausage, bacon chunks, tomato and boiled egg on top of salad greens with a side dish like scalloped potatoes.  Barry had the same side dish, but on salad greens he had little bruschetta-like slices of French bread with ham and cheese.  The dessert course was soft cheese and raspberry sauce for him and yummy "profiteroles" – like mini eclairs with custard inside and chocolate sauce.  So far, it does seem to be all about the food, doesn't it?
Today we took trams up to L'Aiguille du Midi to view Mont Blanc up close.  It was amazing and beautiful.  We saw all sorts of people making their way up to the summit.  We hiked over to Lac Bleu – all in all spending 2-3 hours on the south side of the valley, then came back to the hotel, dumped our warm gear (needed for a morning trip, but not in the afternoon), and then headed over to take a lift and tram up to Le Brevent, basically the top of the black diamond slopes on the north side of the Chamonix valley.  Now it is 5:00 pm and the racers and supporters are gathering in town for the start of the Ultra Trail du Mont Blanc.  CRAZY people!  I think we'll go watch them head out and then grab supper somewhere. Tomorrow we take the train to Argentiere and begin the Haute Route in earnest.
Photos from Chamonix:
Beautiful building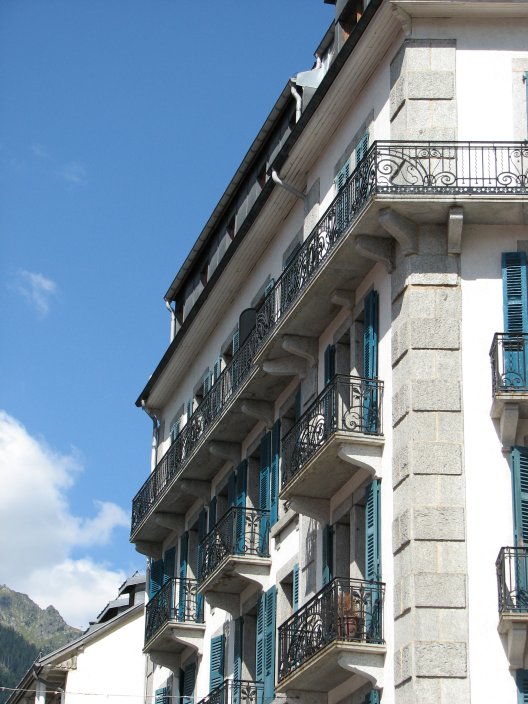 Mont Blanc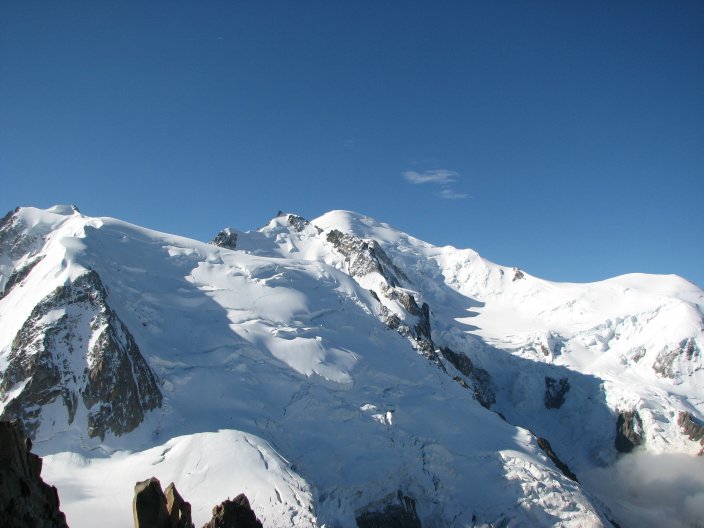 Hikers on their way down.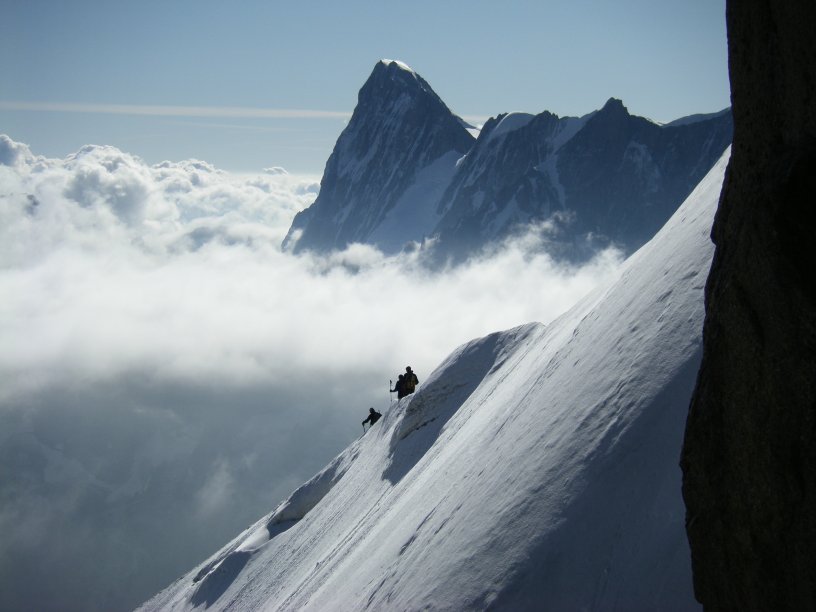 The morning started out cloudy – we couldn't see down into the valley below.  And it was chilly up there!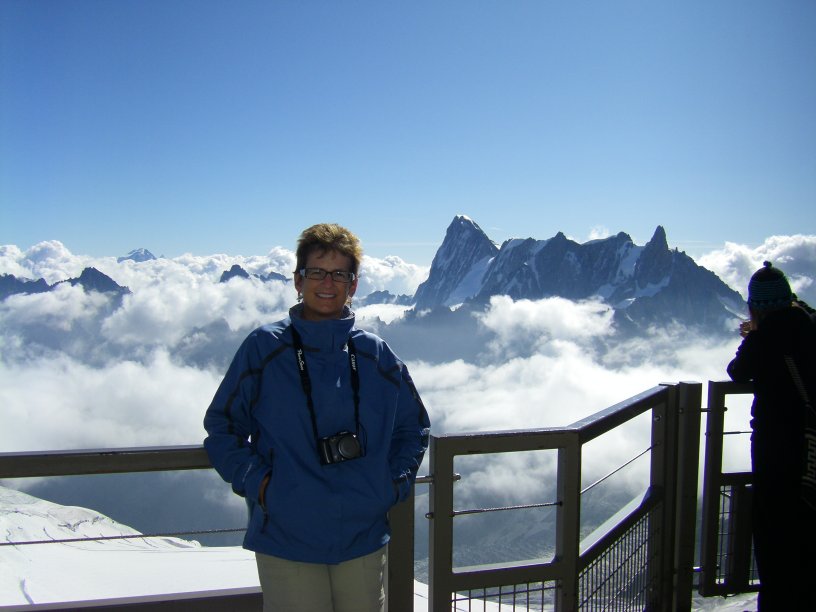 Here is one of the trams.  You take one to a midpoint, and then hop on another to the top.  At the top there is also an option for taking a cable car into Italy!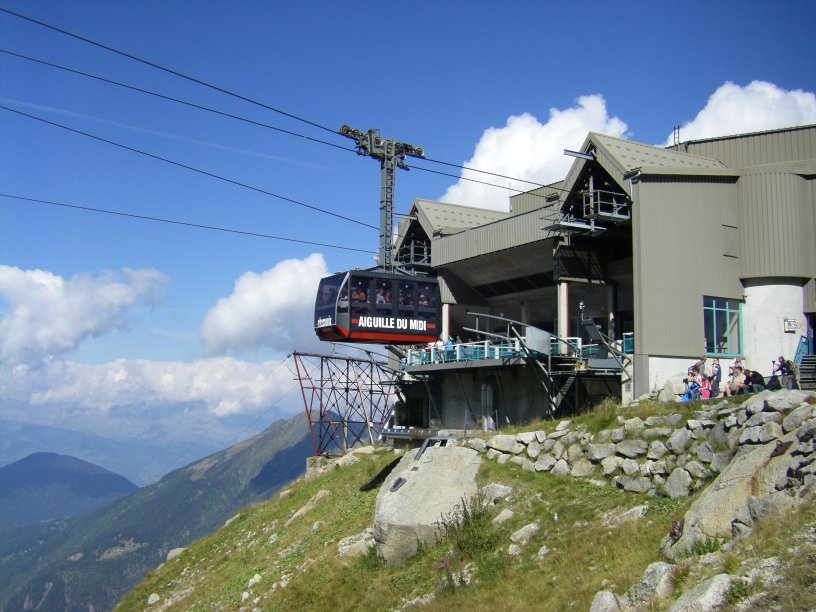 The clouds finally burned off and you could see the valley far below.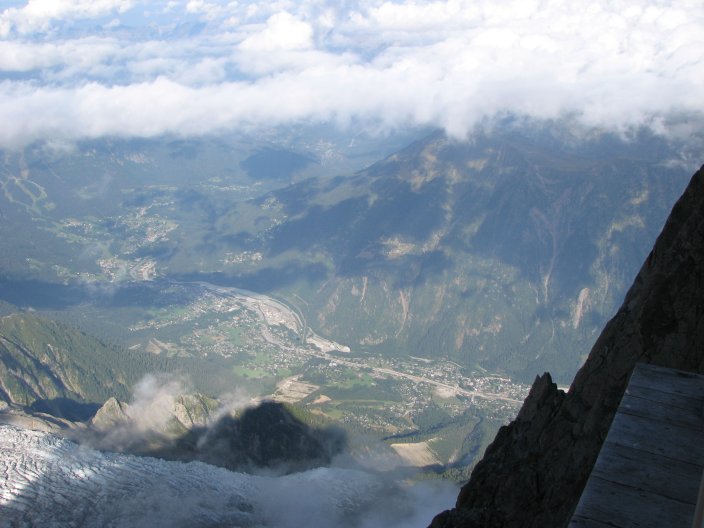 We hiked to Lac Bleu, where we saw the first of many cairns.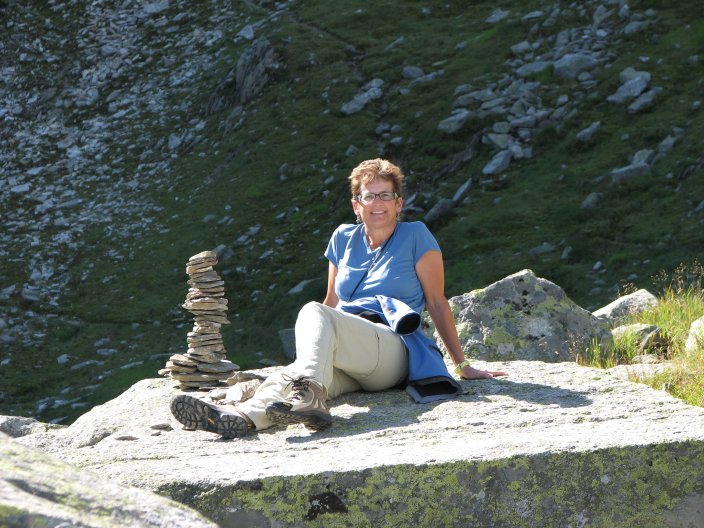 This is a view of the lift up to Le Brevent – you can barely see the tram wire running across to the highest point (on the left).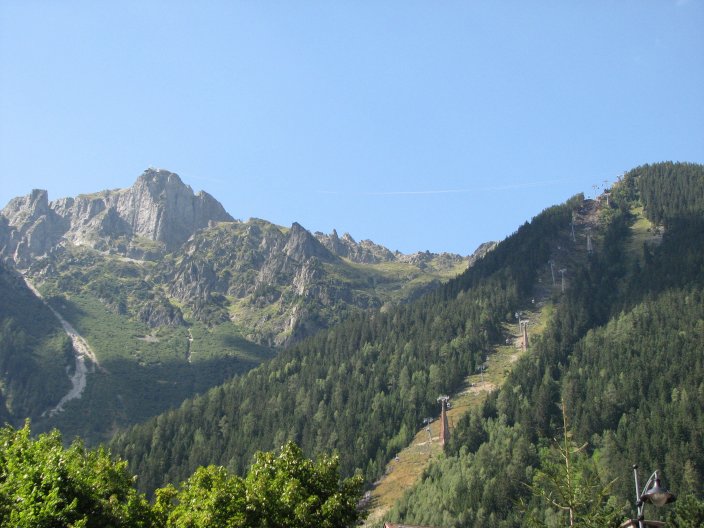 The start of the race was wild.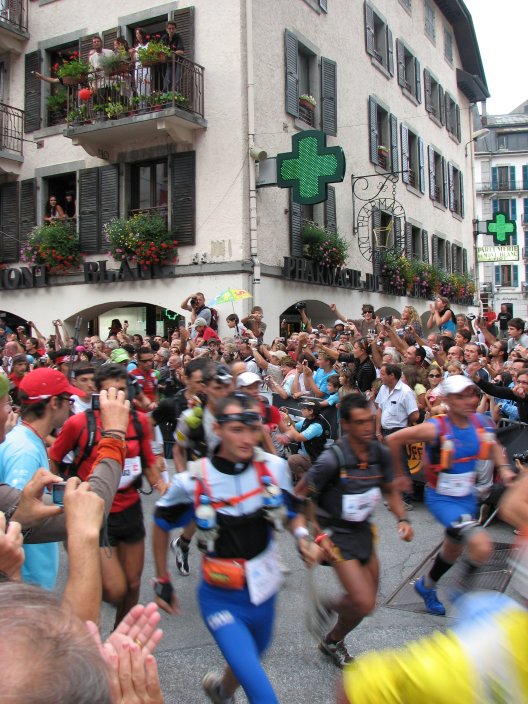 0
Mont Blanc sunset taken from Chamonix