Day summary:
6.5 hours (Kev time)
12.5 miles (some by chairlift)
from Argentiere: gain 953 m, lose 925 m
We had decided ahead of time to take the train from Chamonix to Argentiere because the Haute Route trail follows the road pretty closely and just didn't sound that exciting.  It meant that our first day wasn't very strenuous, but we definitely made up for that the next day.  We were able to take the train for free, using the transportation pass provided by the hotel.
Here is the journal account of the day:
Well, we thought we were leaving the UTMB behind – not so fast!  When we arrived in Trient (the 140 km mark on the UTMB), we discovered that around 30 runners had come through the town already.  The rest would be arriving ALL NIGHT LONG!  And they have all their supporters arriving and leaving, so we expect a noisy night.  I guess that will be the story for tomorrow.
Today was a blissfully easy day, although Barry started crabbing about hiking all the way up something and then all the way down just to get up in the morning and do it again.  And my knees were kind-of saying the same thing in their own special way. [Note: this kind of up and down is what this trek is all about, so be prepared!]
We enjoyed a wonderful breakfast buffet again, then took the train from Chamonix to Argentiere, avoiding an easy but supposedly boring section of the route.  We arrived in Argentiere and had our first test of Kev's route description.  It was perfect!  We even ran across an old couple with 3 grandkids in tow who offered to take our "starting the hike" photo.  We hiked the easy 45-60 minute walk to Le Tour (not La Tour, which we learned means "the tower," particularly the Eiffel Tower if spoken while in France).  From there we paid for the telecabine lift up to Col de Balme.  It was cloudy and chilly at the col.  We celebrated entering Switzerland again – taking photos kissing across the boundary rock, then began the descent.  We kept leap-frogging down the path with a couple from Flagstaff – Cindy and Peter – who were headed to La Forclaz.  At first the hiking was beautiful; we could see all the way down into the valley where it was green and lush.  But when we entered the forest, the serious switchbacks began: less fun and when Barry started complaining.
It was goofy – as we got closer we could hear what I knew had to be cowbells, having read about them in the book.  But really?!  Would they make that much noise?  When we finally arrived in La Peuty, we found that in fact, they do make that much noise – they are snug around the neck and quite sensitive to movement.  And they are sized to match the cow.  The bulls have big low-toned bells and the cows have bells that are somewhat smaller and higher.  The one calf we saw had a very small, high-pitched bell.
Trient is quite beautiful – but somewhat different from usual because of the UTMB.  A town of 100 people with that many volunteers, 2000+ runners and 10,000+ supporters isn't quite the quiet Swiss village we thought we'd encounter.  And on top of it, our dortoir is right where the runners descend from the hills into town – so they are greeted with cheers and applause (all night long).  And there is a ton of traffic as family and support teams arrive to care for their runner and then leave to catch up with them in Chamonix.  AND our dortoir owner is a volunteer and runner himself.  He has done this race twice before!
We have found ourselves in the company of Roland, a German-speaking Swiss (who knows English and French very well) and a mom/daughter duo from France – daughter knows English and has forced mom to speak it all of the way (because they are traveling with the daughter's Finnish friend who doesn't speak French).  We are grateful for all the help with translation because the wife doesn't speak English and the husband speaks only some.
We had a great dinner at the family table (the 3 kids came and went, eager to take part in the race activities, I think).  Lovely local wine and French cheese!  Conversations flew, moving from French to English and occasionally German, as we talked and then they attempted to translate what had just been said so that we could participate.
——————————————————————————————————————————————————————————-
We stayed at Gite la Gardienne – which is basically the lower floor of the family's house in Trient.  There are three rooms of varying sizes, a small entry/sitting room, kitchen and shared bath.  Note that this means that there is ONE toilet and ONE shower for ALL visitors – which could be as many as 16-18 people!  I chose not to try to take a shower when there were just 6 of us there because it was too hard.  We ended up sleeping with all of the women in one room and the 2 men in another, just for the sake of privacy.  I think the two of us were originally supposed to sleep in the smaller back room, but that meant bunk beds.  The situation was pretty relaxed and the husband was busy dealing with the race, so we figured things out on our own.
Trient is VERY small; I think there is just one other place to stay – a larger dortoir with single and group rooms, Relais du Mont Blanc.  There was one small cafe where we enjoyed a beer while watching runners come through.  We lucked out in having such a generous host family; as it turns out, there wasn't really anyplace open to purchase lunch for the next day.  When our host found out that we needed food, she gave us apples and extra cheese and bread from breakfast that morning.  Be prepared to pay for your stay in cash.  This is the case at the mountain huts as well.  Every place else accepted credit cards.
Waiting for the train in Chamonix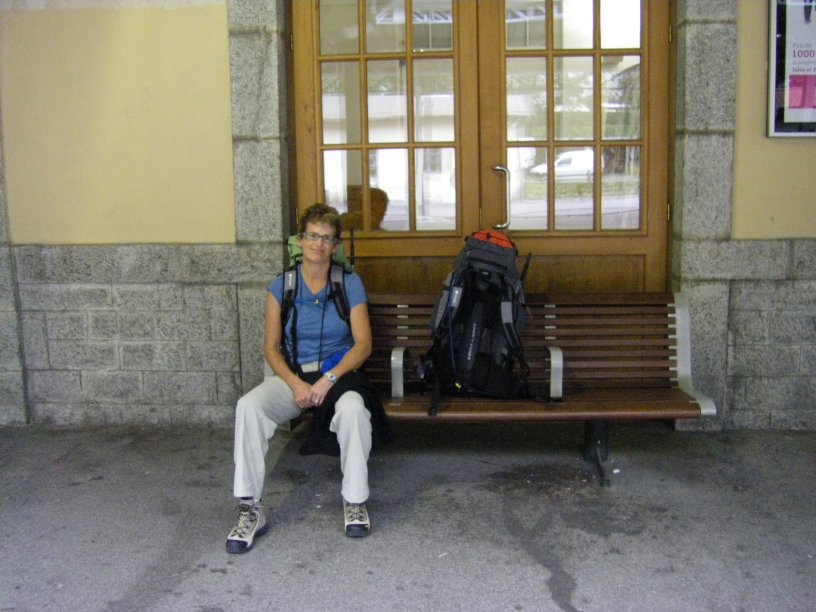 Start of hike in Argentiere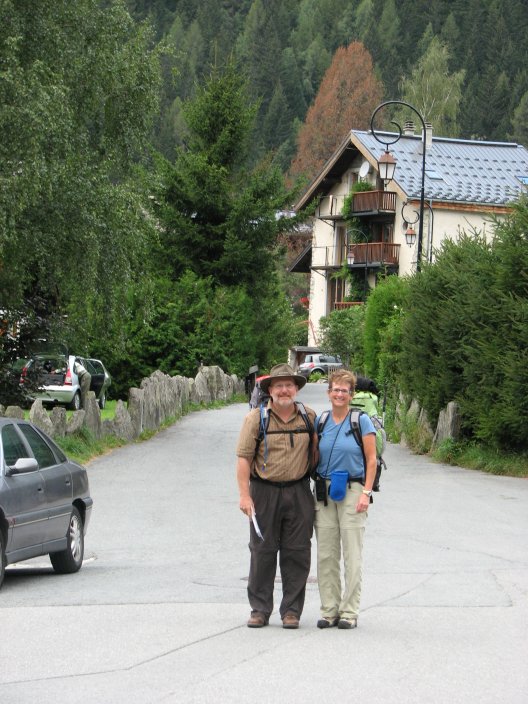 Looking from Col de Balme at lift that brought us up from Le Tour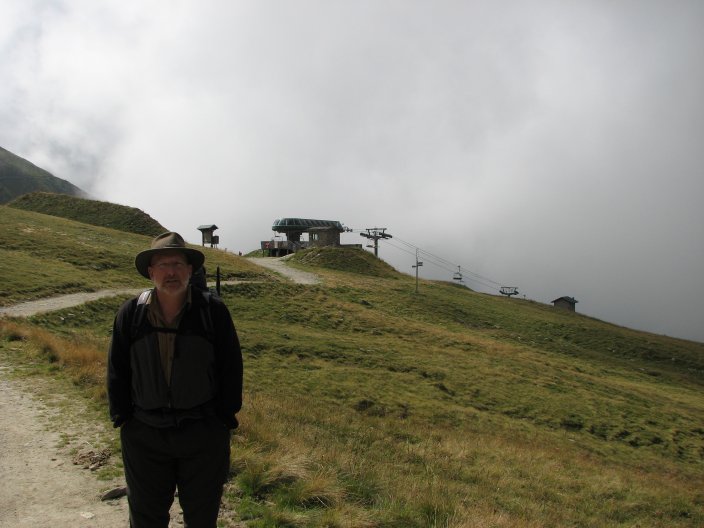 Border kiss!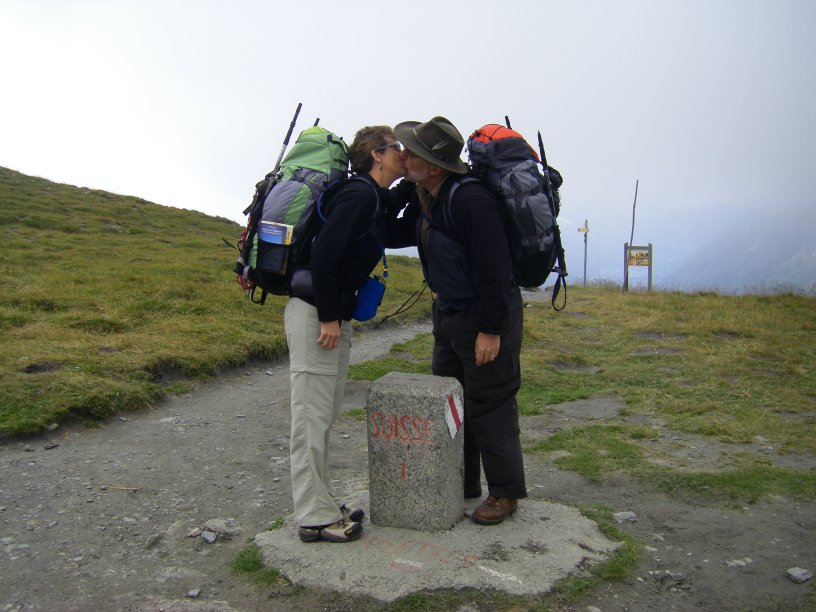 Look down into lush green valley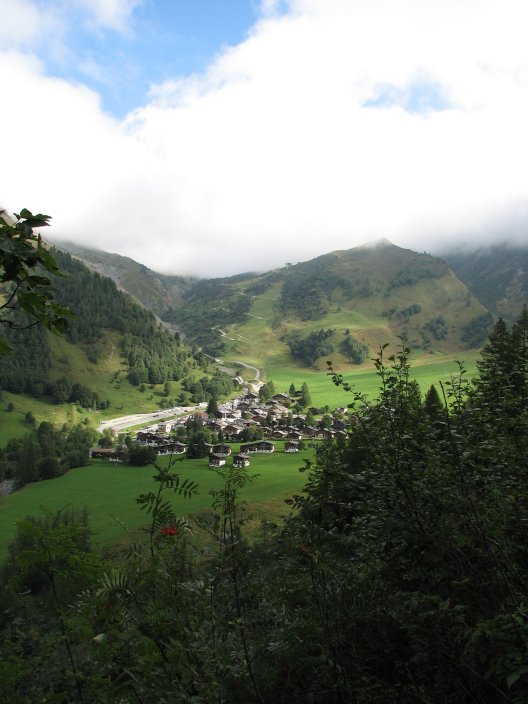 Cow and bells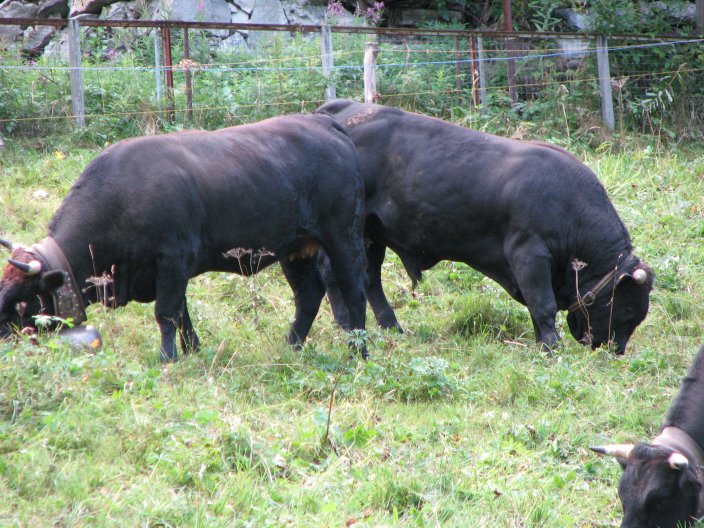 Trient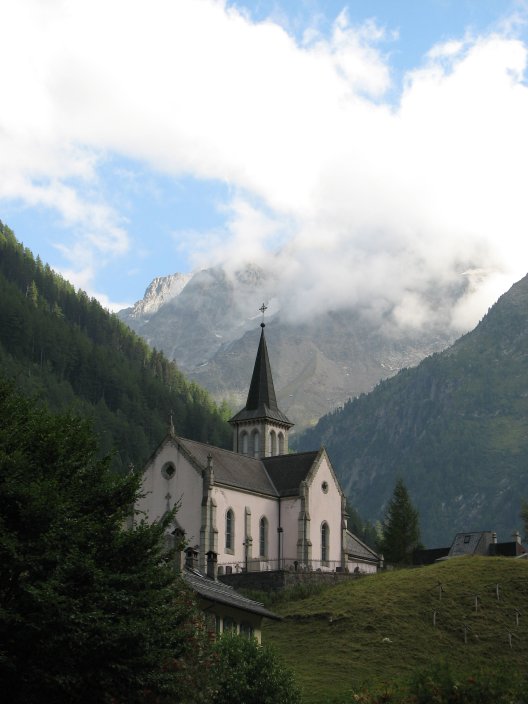 Le Gite la Gardienne – and UTMB sign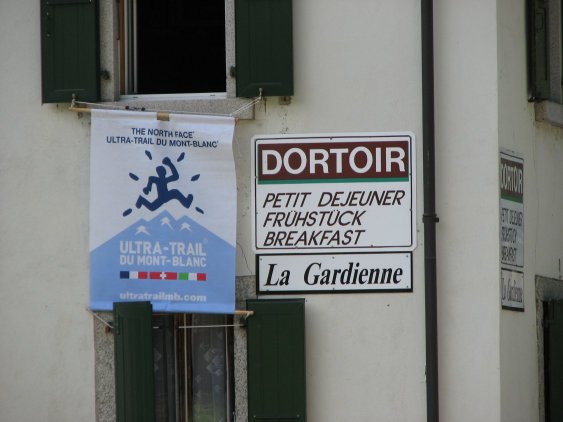 Gorgeous little village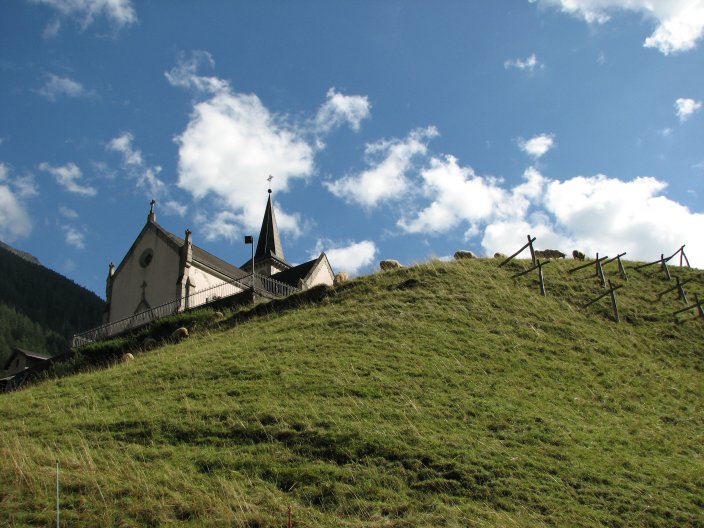 Runners arriving in Trient the next morning