GETTING TO CHAMONIX

We took flights to Geneva and then booked a shuttle to take us down to Chamonix.  There were tons of shuttle services available, and many that you could book online.  It seemed that the price was pretty similar from one outfit to another.  We booked with Mountain Dropoffs through the internet, and were very pleased with their service.  They emailed us several times with confirmation numbers and contact information.  The driver met us at the airport with our name on a whiteboard to locate us.  We had to wait a bit for another flight and group of travelers, but we were prepared for that.  The drive to Chamonix took about an hour and the shuttle took us directly to our hotel door.  I think it is wise to book this ahead of time since there will always be a huge bolus of people arriving at once, leading to long lines at transportation services.
ACCOMMODATIONS AND MEALS

Originally I was willing to shed my usual (anal?) routine of making reservations for each night of the trip.  I wanted to allow some flexibility, and to show that I could be more spontaneous in my old age.  Then I thought, who am I kidding?  I have made all these plans and I expect that I'll want to stick to them…  So much for spontaneity!  And after the fact, I'm glad that I did make reservations, because we would have been in trouble more than a few nights.  If you do decide to wing it – you will find that all but the smallest of towns have a tourist office that can help you find a place to stay.  We ended up making one change to our route along the way, after learning about a trail wash-out, and we took advantage of the Office du Tourisme in St. Niklaus to find a hotel for the night.  They asked what kind of accommodation we were looking for (hotel or hostel/dortoir) and then called to confirm availability.  Very easy!
We planned to arrive in Geneva on Thursday morning, August 27, spending 2 nights in Chamonix before starting the trek on Saturday the 29th, and then ending in Zermatt on the 8th of September.  From there we planned to take a train to Basel and then back to Geneva for our flight home on Sept. 12.  I sat down on the 4th of July and was able to make most reservations either online or via email over the next few weeks.  In some cases we could book directly with a hotel, in others we had to go through some kind of travel intermediary.  We'll go into more details as we journal the trip and talk about where we stayed.  We never did make any confirmations with the Europa Hut – and that ended up being the one place we didn't make it to.  Hmm – karma?  There was one hut that we had to call by phone to make a reservation – Cabane de Prafleuri.  My husband ended up calling from work because he has a co-worker who speaks French.  However, once on the line, when he asked "Parlez vous anglais?" she immediately switched to English and the transaction was completed without difficulty.
Many of the people that we met along the way did not make reservations ahead of time.  If you are willing to be flexible and hike to another town or stay in a cheaper or more expensive place than you had planned, you will most likely be able to have a bed each night.  Surprisingly, while I expected the mountain huts to be more accommodating and make space in a pinch, we did have friends (met along the way) who ended up having to travel another couple of hours (and more than a few meters) to a more distant and remote (read "higher elevation") hut when the one they were counting on was full for the night!  I would recommend making reservations at the more remote areas with fewer options or smaller facilities.  We were surprised to discover a huge group of people at Cabane de Prafleuri (a private party of Swiss Alpine Club friends and family) and might not have been able to stay there if we hadn't booked it in advance.  That was a particularly long day for us, and I can't imagine having to hike further to Cabane des Dix (the closest option).
In smaller dortoirs and the mountain huts, be prepared to pay in cash.  We had no trouble finding ATMs in the larger towns along the way, so plan ahead and make sure you have enough to make it through to the next larger stop.  Also, at the mountain huts, it will cost you extra to take a shower.  Not necessarily a big deal, but don't be surprised.  Typically you will buy a certain number of minutes; it is surprising how fast you can take a good shower!  We were able to "share" a shower at Prafleuri because when you're buying minutes of water, you can shut it off while you soap up, then turn it back on to rinse off.
A word about hotels versus dortoirs and demi-pensions (half-boards) versus petit dejeuners (breakfasts).  Many of the blogs that we looked at ahead of time emphasized a frugal approach to the trip.  We were able to focus less on cost and more on comfort, so we investigated other options in each town, and we'll let you know about those in the trip report.  In some cases, you won't have any or much choice, in other towns, you'll have a number of places to look at.  We tended to choose hotels when they were available, opting for privacy but losing out on meeting other people.  Think about that when you plan your trip.  One of the rewarding aspects of this route is that it is well-used by people from around the world.  In a way, it was good that a dortoir (in Trient) and two mountain hut nights (Mont Fort and Prafleuri) occurred early in our trip, because we were able to meet others who we kept running into over the next week.  Occasionally we would hike with friends we made or would meet up for a beer later on in the evening (a good option when your paces are quite different!).
Once we left Chamonix, I think we stayed at only one hotel (in Champex) that did not include breakfast (petit dejeuner) with the cost of lodging.  Every place else had at least some sort of spread laid out in the morning.  The least impressive morning meal of the trip was served at Cabane du Mont Fort, while many of the hotel breakfast buffets could not be described as "petite" in any way.  The common theme was an assortment of breads, cheeses, thinly sliced ham – and chocolate!  The Swiss don't save chocolate for dessert.  [Barry kept choosing croissants that looked like they should have cinnamon inside; he was always disappointed when it was chunks of chocolate instead.]  Sometimes there were eggs, juice and fruit.  Always there was tea, coffee and cocoa.  We found the best value for the evening meal was to choose the demi-pension, if it was available.  When we compared to other restaurants in the area, we could usually get a 3 course meal for the cost of just the entree elsewhere.  Typically there would be a meal of the day – often involving pork, so be careful if you have dietary restrictions.  There would be 3-4 courses: usually salad, sometimes soup; a main course; then a dessert.  I only had one dinner that I really didn't like (at Hotel Schwarzhorn in Gruben) but I also didn't feel great that evening.  The food did tend to get monotonous after awhile.  As I just mentioned, more remote villages often served pork and noodles.  Our lunches were typically bread, cheese, salami and then sometimes an apple or cookies with chocolate.  Since that was also what breakfast usually involved, it got a little old.  Needless to say, by the time we reached Zermatt, we were looking for more variety.
A WORD OF CAUTION REGARDING TRIP TIMING
One unexpected barrier to finding space in a hotel/dortoir will be the numerous trail marathons that occur throughout the region in the summer.  We had anticipated a quaint resort village when we pictured Chamonix – instead we arrived to find a completely booked and bustling town filled with ultra-marathoners and their families!  Little did we know that the Ultra Trail du Mont Blanc was on – with insanely long races around the mountain that had started earlier in the week and  were continuing through the weekend.
Sign for the UTMB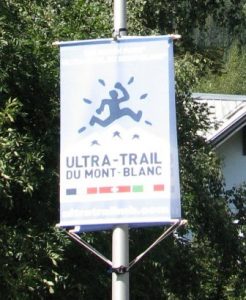 There are a lot of accommodations in Chamonix, but I would bet that every bed in the valley was filled for that weekend.  So, you really should check ahead, not just for the UTMB, but about other races that are held throughout the Alps that may interfere with your trip.  There is a marathon from Sierre to Zinal in August that might make it harder to find a a place to stay in Zinal.
In fact, while leaving Zinal, you'll see "Z" signs along the trail directing runners into the village.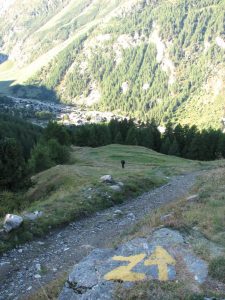 When we reached Arolla, we found the town preparing for the end of another trail race – one that starts in Italy and follows the old smuggler's trail into Switzerland, the Collon Trek.  Again, we lucked out that night, and in fact were one of just 2 groups staying at our hotel, but I think we would have had trouble if our trip had us reaching Arolla over the weekend.
ALTERNATE FORMS OF TRAVEL – CABLE CARS AND CHAIR LIFTS

You may decide that you don't really want to hike the entire route from one end to the other (believe it or not!).  We planned from the start to take any cable car (telepherique) or chair lift (telecabine) available along our route – hey we're celebrating 50 – we've gotten smarter over the years!  But we weren't smart enough to check schedules ahead of time, or to see if there were any bargains to be had for tickets.  Oh well – you'll learn from our mistakes.
First of all, in Chamonix there are some fantastic cable car rides up to viewpoints on either side of the valley if you have the time and the money (they are not cheap, but are worth the fabulous views).  We found out later that we should have purchased a Mont Blanc pass, because even after we had started our trek, we could have used the pass for the first chair lift that we took from Le Tour to Col de Balme.  On the southern side of the valley above Chamonix are 2 cable car lifts to L'Aiguille du Midi (the Middle Needle) that offer close-up views of Mont Blanc.
Telepherique to L'Aiguille du Midi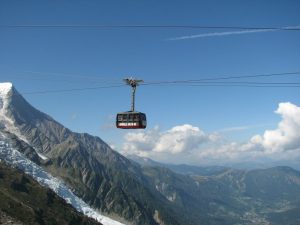 The second planned cable car short-cut was from Le Chable to Les Ruinettes via Verbier.  This was where we discovered more important information missing from Kev's book.  We arrived in Le Chable on Monday, August 31, only to discover that the cable car had stopped running the day before!  Damn!  The other little tidbit we learned this day was that the Swiss take a "siesta" in the afternoon, typically from noon to 2:00 or 3:00, so you can't conduct any business during that time (except to eat at a restaurant).  Fortunately, we were able to take a bus to Verbier and the cable from Verbier to Les Ruinettes was still running.  Good thing, since there is no way that we could have made the hike up to Mont Fort that day.
The other cable rides we took advantage of along the way were: Sorebois to Zinal and Jungen to St. Niklaus, both downhill trips that saved our knees.  The trail from Sorebois to Zinal would not have been that tough, in retrospect, but the descent from Jungen to St. Niklaus is crazy steep.  We used the tourist office to check that both of those cars were running (having learned our lesson in Le Chable).  These cables don't run that frequently – every 30 or 60 minutes from Sorebois and the small car at Jungen basically runs as needed, but both have a late-afternoon cut-off, so check the timing to avoid getting stranded.
Taking the telepherique from Sorebois to Zinal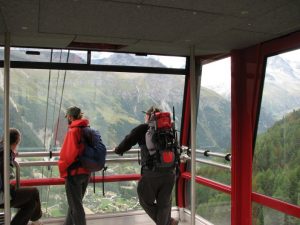 Jungen – and a steep descent into St. Niklaus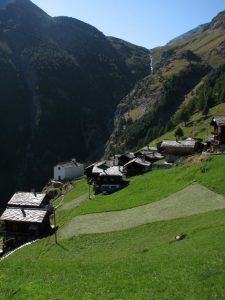 ALTERNATE FORMS OF TRAVEL – TRAINS AND BUSES
We decided ahead of time to take the train from Chamonix to Argentiere before starting our trip because the trail basically follows the road, and it didn't sound all that enticing.  We were happy to find out that if you spend the night in a hotel in Chamonix, you can get a pass that allows you to travel by bus or train for free within the entire valley during your stay.  They are trying to reduce car traffic in the region (and you'll see why when you are there!).
Midway through the trip, we needed to take a break from hiking to help Barry's blisters heal before moving on.  We found that we could take a bus from Arolla to Sion, then a train from Sion to Sierre, and then another bus from Sierre to Grimentz, our next planned stop on the way.  Our hotel host in Arolla was fantastic in finding out schedules for us, but failed to realize that we could have purchased a 3-day pass that again would have saved us a lot of money, particularly because we also took the bus from Grimentz up to Barrage du Moiry the next day.
One last bit of info:  Before our trip, I bought rail passes (online) from Zermatt to Basel and from Basel to Geneva (we visited a friend in Basel at the end of our hike).  It was completely unnecessary to make those purchases ahead of time.  It didn't save us any money and we could have easily bought tickets when we were there.  So, my recommendation is to wait on train tickets, you'll have more flexibility if you need to change things up.