I picked up this machine from a seller west of Madison, WI in the fall of 2000. I saw his listing in the Mr. Pinball Classified ads and stopped by to check it out on a Thanksgiving drive down to visit my sister's family in Chicago. We agreed I'd be back the next weekend with a vehicle spacious enough to transport the machine (my wife's Honda CR-V).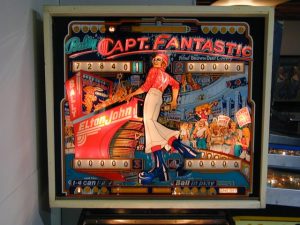 It's my only electro-mechanical and is in beautiful condition. It's got a little bit of wear around the central bonus inserts, but is great otherwise. The backglass is ALMOST perfect. Unfortunately, the owner disregarded my request that he leave the machine completely assembled until I got there.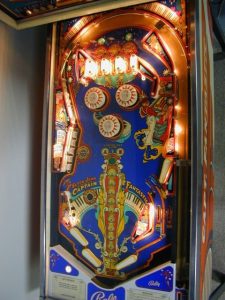 When I arrived he had the backglass removed, and had helpfully packed it in cardboard with brown plastic strapping tape, some of which touched the layers of ink on the backside of the glass. Once we got the machine home I tried to get the tape off without lifting the ink, but I failed in one tiny spot near the top of the glass, turning what had been an absolutely perfect glass into a 9.9. The imperfection is only about a quarter of an inch square, up near the "100,000" indicator for Player 4, but it still rankles. In retrospect I think I could have floated the tape off using Goo-Gone, but I wasn't that smart in those days…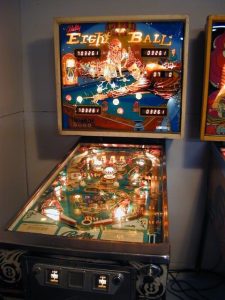 It's fun to have this classic EM machine from 1976 in my collection! Incidentally, this one has the "starred" backglass.